Top 5 Things to Know in the Market on Wednesday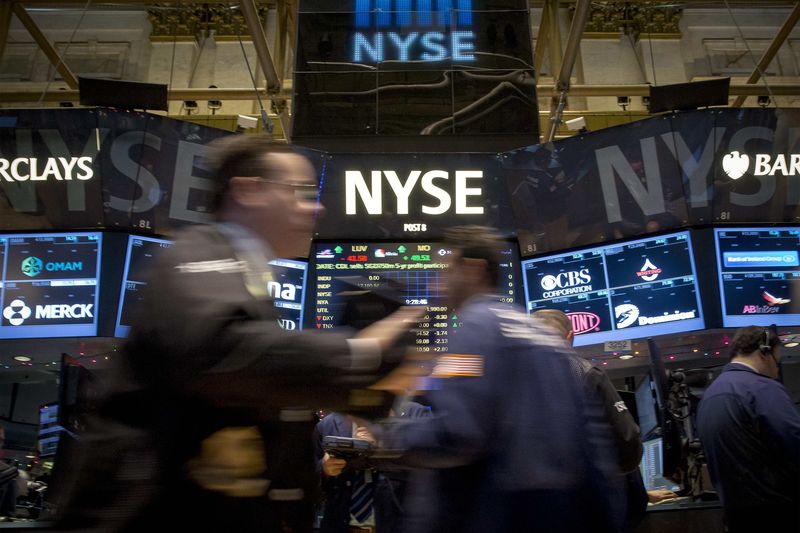 © Reuters.
Investing.com – These are the top 5 things you need to know in financial markets on Wednesday, 22 May.
1. Blacklists and Backlash
Nearly half of U.S. companies operating in China have already been hit with retaliatory measures since the U.S. increased and widened tariffs on Chinese imports, according to a survey by the American Chamber of Commerce. Around 40% of the companies surveyed said they are considering relocation of their facilities.
The news comes as the New York Times reported that the U.S. may add more Chinese companies to a U.S. , including Hangzhou Hikvision Digital Technology (SZ:), the world's largest maker of surveillance cameras.
Elsewhere, Bloomberg reported that the U.S. administration is planning to increase to U.S. farmers hit by Chinese trade countermeasures. It said farmers may get up to $2 a bushel for soybeans, 63 cents a bushel for wheat and 4 cents a bushel for corn.
Read more: – Barani Krishnan
2. Stocks set to open mixed
Wall Street is set for a mixed opening, as the negative news flow on trade was offset somewhat by comments from the to the U.S. saying that the door was "still open" for negotiations.
At 6 AM ET, the contract was down 1.1 points and the contract was down 3.5 points, both effectively unchanged, while the tech-heavy contract was down 12 points, or 0.2%. European bourses were also mostly lower.
Some support is also coming from comments by , who became the first senior Federal Reserve official to admit that its interest rate hike in December may have been a mistake.
3. Retail woe to continue?
and will be in the spotlight Wednesday after a generally disappointing round of earnings from the retail sector on Tuesday.
Nordstrom (NYSE:) tumbled over 9% in after-hours trading on Tuesday after reporting disappointing sales figures, while Kohls (NYSE:) had earlier fallen 12%, both continuing to struggle with secular pressures on brick-and-mortar shops as well as higher purchasing costs due to the imposition of import tariffs.
4. Qualcomm hit by court ruling
Qualcomm (NASDAQ:) shares are set to come under further pressure on Wednesday after a federal judge ruled that it by charging unreasonably high royalties and squeezing out rivals.
The decision by a San Jose District, sided with the Federal Trade Commission, which brought an antitrust lawsuit against Qualcomm in January 2017. The chipmaker's stock has already been battered this week by the threat of losing billions of dollars a year in sales to Huawei.
5. May's last Brexit gamble backfires
The fell to within a whisker of a new low for 2019 after Prime Minister Theresa May's last gamble on getting her EU Withdrawal Bill through parliament backfired.
Proposals , which included long-term alignment with EU regulation on workers' rights and trade policy, along with a second, confirmatory referendum, have angered her own party's lawmakers to such an extent that they now appear intent on .
The political upheaval overshadowed showing inflation had crept back up above the Bank of England's 2% target in April, although the 2.1% reading was less than the 2.2% expected by analysts.