Top 5 Things to Know in the Market on Wednesday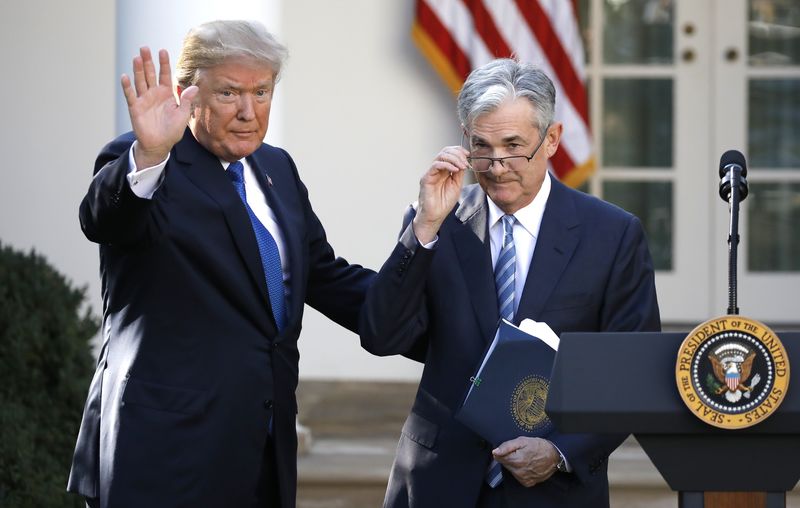 © Reuters.
Investing.com – Here are the top five things you need to know in financial markets on Wednesday, June 19:
1. Fed easing bias expected in policy decision
The Federal Reserve is widely expected to leave unchanged when it announces its policy decision at 2:00 PM ET (18:00 GMT), but analysts are convinced that the U.S. central bank will signal a more dovish stance in order to set the stage for cuts later in the year.
Market focus will be on the dot-plot – included in the published alongside the – that reflects policymakers' projections for the future path of interest rates.
A half an hour after the decision, Fed Chairman will lay out the summary of the monetary policy meeting and deliver remarks on the current outlook.
Read more: – Darrel Delamaide
price in a more than 80% chance of a rate cut in July, with an additional two cuts by the end of the year holding just below the 50% mark.
Ongoing trade tensions between the U.S. and China coupled with muted inflation data have increased the pressure for more policy easing.
U.S. President Donald Trump has also consistently attacked the Fed for not lowering rates, with Bloomberg reporting on Tuesday that the back in February.
When asked on Tuesday if he still wished to demote Powell, Trump responded, "Let's see what he does."
2. Caution reigns on Wall Street ahead of Fed
remained in a holding pattern near the unchanged mark ahead of the Fed policy decision and Powell's appearance.
Muted trade came after a strong finish on Wall Street Tuesday, with bulls buoyed by Trump's tweet that trade negotiations with China would move back into motion ahead of an "extended meeting" with Chinese President Xi Jinping at the G20 next week.
The overnight with Japan's jumping 1.8% and China's ending 1% higher.
on Wednesday after comments from European Central Bank President Mario Draghi on the likely need for additional stimulus sent the region's stock markets to their best performance in five months on Tuesday.
3. Oil markets wary of another surprise inventory build
The petroleum report is due Wednesday, with markets wary that U.S. crude stockpiles could stage an unexpected build for the third-straight week.
Consensus forecasts a draw in crude stockpiles of barrels for the week ended June 14, but the prior two EIA reports registered an unexpected surge in inventories, driving lower.
In its own report released late Tuesday, the American Petroleum Institute saw a draw of barrels last week.
4. CBS preps offer to rejoin Viacom
CBS (NYSE:) is reportedly once again preparing a buyout offer for Viacom (NASDAQ:) in the coming weeks, according to sources cited by The Wall Street Journal.
Preliminary discussions have already taken place over the layout for the deal in what would be a third attempt to reunite the companies that were broken up over a decade ago.
WSJ emphasized however that a deal was "far from certain" with fixing the price for a stock transaction being one of the major hurdles.
5. Google, Adobe and Oracle in tech spotlight
As Google-parent Alphabet (NASDAQ:) revs up for its annual shareholder meeting on Wednesday, a group of shareholder activists plan to before regulators force it to do so.
"We believe that shareholders could receive greater value from a voluntary strategic reduction in the size of the company than from asset sales compelled by regulators," said the proposal from SumOfUs, a U.S.-based group that aims to curb the growing power of corporations
While it is highly unlikely that the proposal would succeed given the majority share owned by Alphabet's top two executives, Larry Page and Sergey Brin, the proposal highlights the recent increase in antitrust investigations into large tech firms and the widening scope for misalignment between outside shareholders and the company's founders.
Also in focus in the tech sector, shares of Adobe (NASDAQ:) surged more than 4% in premarket trade Wednesday after reporting that topped estimates. Oracle (NYSE:) is scheduled to release its own after the market close.
— Reuters contributed to this report.