Day Ahead : Top 3 Things to Watch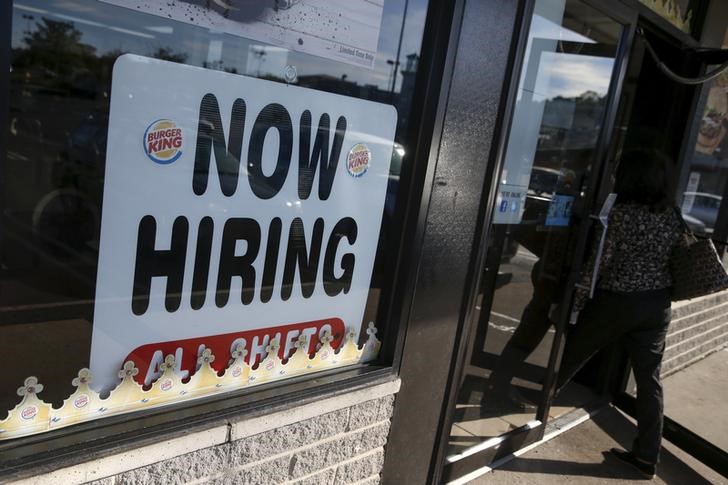 © Reuters.
Investing.com – Here's a preview of the top 3 things that could rock markets tomorrow.
1. It's Jobs Friday!
Jobs, Jobs, Jobs. All eyes turn to the Labor Department for its update on the how many jobs the U.S. economy produced last month.
The labor market suffered a rough ride in October, largely driven by the strike at General Motors (NYSE:), and there are few betting on an upside surprise.
Economists forecast that the U.S. economy created about in October, down from 136,000 a month earlier, while the is expected to have inched up to 3.6% from 3.5% in September.
Wage growth is expected to slow to 0.3% in October from a month earlier, but pick up the pace slightly to
At 10:00 AM ET (14:00 GMT), meanwhile, the Institute of Supply Management will release its measure of manufacturing activity for October.
The ISM is predicted to have increased to a reading of 48.9.
Construction spending data will follow on the heels of the manufacturing data, with economists forecasting growth of 0.2% in September from the prior month.
2. Oil Majors Earnings Due
Oil majors Exxon Mobil (NYSE:) and Chevron (NYSE:) will report third-quarter earnings before the opening bell.
Sentiment on Exxon ahead of the earnings is hardly optimistic amid a challenging backdrop of weaker oil and gas prices.
Earlier this month, the oil giant provided investors with a peek into Q3, but that did little to turn sentiment around, with the company estimating a fall in quarterly earnings.
Exxon Mobil is earnings of 67 cents per share on revenue of $62.31 billion. That would be down from earnings of $1.46 a share and revenue of $76.6 billion a year ago.
Beyond its earnings, Exxon's free cash flow will also attract attention as the company has ramped up spending to bolster production.
Unlike Exxon, Chevron (NYSE:) boasts a healthier balance sheet with plenty of room to weather the impact of falling oil prices.
Chevron (NYSE:) is expected to report of $1.49 a share on revenue of $38.84 billion. That would be down from $2.39 a share and revenue of $44 billion a year ago.
Chevron's levered free cash flow, a key metric to gauge oil and gas companies, at about $14 billion, is nearly double Exxon's.
3. Alibaba, Berkshire Report Results
Chinese e-commerce behemoth Alibaba (NYSE:) reports results before the opening bell.
Alibaba (NYSE:) is expected to earnings of RMB 10.76 a share on revenue of RMB $116.97 billion.
Its e-commerce business, which makes up the bulk of revenue, will be a key driver in determining performance during the quarter, at a time when competition from the likes of JD.com continues to heat up.
Warren Buffet's Berkshire Hathaway (NYSE:) also steps up to the earnings stage, with investors keen for an update on how the company will deploy its massive cash pile.
The conglomerate is expected to of $2.87 per share for its Class B shares on revenue of $66.47 billion.