Economic Calendar – Top 5 Things to Watch This Week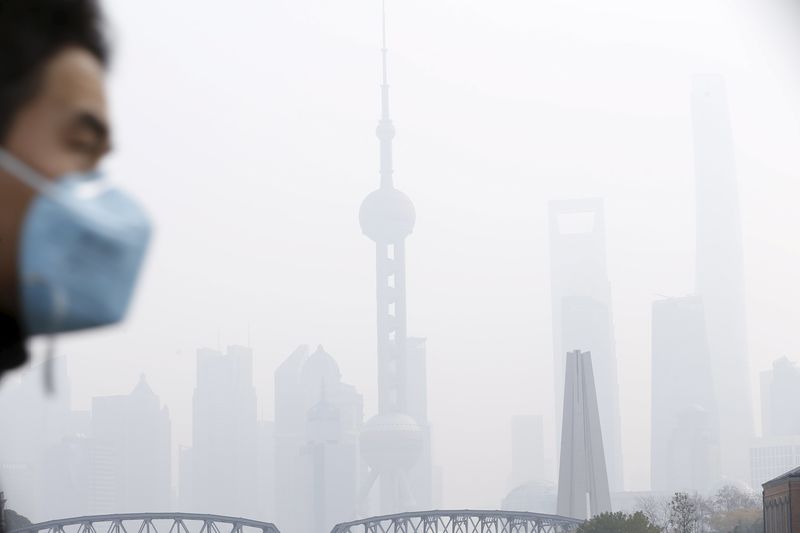 © Reuters.
By Noreen Burke
Investing.com – Growing fears over the scope of the coronavirus outbreak are likely to keep global markets on edge this week, but a batch of closely watched tech earnings could shift investors' attention away from the outbreak. After last week's less-than-stellar quarterly report from Netflix – the N in FAANG – Apple, Amazon and Facebook set to report their results. The Federal Reserve and the Bank of England will both hold monetary policy meetings, with Thursday's BoE meeting the final one with Mark Carney at the helm and the last before Brexit. Here's what you need to know to start your week.
Coronavirus outbreak
Market participants are keeping a wary eye on developments surrounding the coronavirus outbreak which has infected more than 2,000 people, the vast majority in China where 56 people have died. The virus has also spread to the U.S., Thailand, South Korea, Japan, Australia, France and Canada.
With stocks close to all-time highs investors are fearful that the newly identified virus could develop into something worse, like the 2003 SARS epidemic.
"Markets hate uncertainty and the virus has been enough to inject uncertainty in the markets," said David Carter, chief investment officer at Lenox Wealth Advisors in New York.
The World Health Organization has stopped short of calling the outbreak a global health emergency, but some health experts question whether China can continue to contain the epidemic.
More FAANG results
While last week's Q4 earnings from Netflix (NASDAQ:) underwhelmed Wall Street, analyst hopes are still high for the other FAANGs – Facebook (NASDAQ:), Apple (NASDAQ:), Amazon (NASDAQ:) and Google parent Alphabet (NASDAQ:) – ahead of their financial results for the quarter.
The FAANG group of U.S. tech stocks have been the biggest drivers of the bull market, with recent gains among most of the group far outstripping the broader market.
Facebook is expected to post earnings growth of 6.2% when it reports on Wednesday, while Apple earnings, due a day earlier, are forecast to have grown 8.7%. Amazon has warned that increased investment in its package delivery business in the last quarter will weigh on earnings, but it sees quarterly revenues up 18.7% when it reports on Thursday.
In comparison, the S&P 500's fourth-quarter earnings are expected to decline 0.8% and revenue is seen rising 4.4%, according the latest estimates compiled by Refinitiv.
Fed meeting
The Fed will almost certainly keep on hold on Wednesday as policymakers continue to assess how the three rate cuts from 2019 are percolating through the economy.
"With no new forecasts being released at this meeting it will be the tone of Jerome Powell's press conference and the actual vote that is likely to be of most interest for markets," said James Knightley, chief international economist at ING.
"We would also expect to hear Jerome Powell retaining his cautiously upbeat language, particularly given the positive conclusion to U.S.-China trade talks. He is likely to reiterate that we will need to see a "material change" for the Fed to consider a policy shift."
Bank of England meeting
The BoE is to deliver its final before Britain exits the EU on Jan 31 on Thursday and the meeting will be Mark Carney's last as central bank governor.
The question is whether the BoE will join central bank peers in cutting interest rates. Economic growth and inflation took a hit from three-and-a-half years of Brexit uncertainty so a recent string of dismal data and comments by BoE officials, including Carney, that more economic stimulus might be needed saw rate cut expectations surge.
But economic data last week pointed to a post-election boost, leading markets to pare back expectations for a cut.
The future path of the , currently trading at around $1.31, in the middle of its trading range so far in 2020 – hangs on the BoE's decision and forecasts for whether the economy will find more momentum after Brexit.
GDP figures
The U.S. is to release advance fourth quarter GDP figures on Thursday, with analysts forecasting growth of . U.S. President Donald Trump might repeat his argument that if it were not for Fed policy tightening, growth would be closer to 4%.
The Euro Zone is to release GDP data on Friday, which is forecast to show the economy expanded from the previous three months, backing up the European Central Bank's view of "ongoing, but moderate growth."
–Reuters contributed to this report