Oil Down Most Since 2020 Start; Market Overpriced?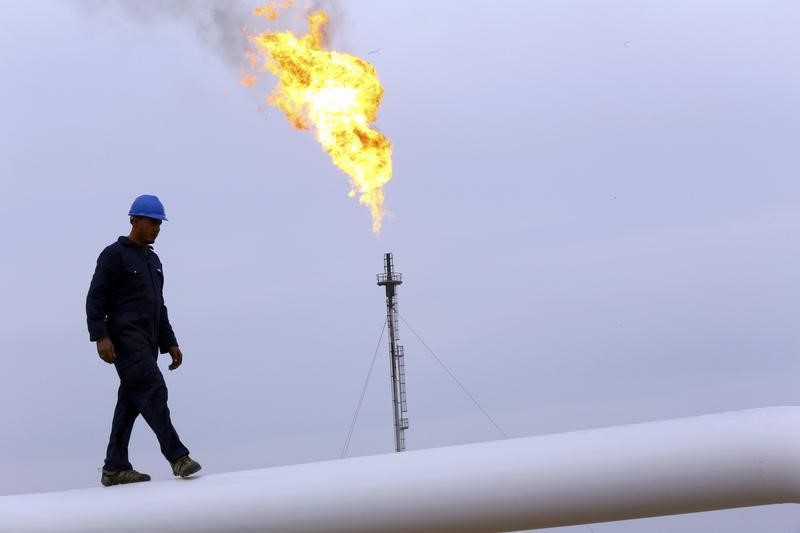 © Reuters.
Investing.com – Oil prices fell the most since the start of 2020 on Tuesday as some market participants argued that crude had been overpriced after the U.S.-Iran conflict, nearing four-month highs above $70 per barrel.
, the global benchmark for crude, settled down 64 cents, or nearly 1%, at $68.27 per barrel. It had risen a cumulative 4.5% in three prior sessions, hitting $70.75 on Monday, its highest since mid-September.
, the U.S. crude benchmark, settled down 57 cents, or about 1.% too, at $62.70. WTI had risen more than 3% net over the past three sessions, reaching a more than eight-month high of $64.72 on Monday.
Oil prices were driven up in the last two sessions largely by the U.S. killing of Iran's top general, Qassem Soleimani, on Friday that set the two countries on a collision course.
"The 'pain trade' is not up for oil prices in the near term," said Scott Shelton, energy futures broker at the ICAP (LON:) commodities brokerage in Durham, N.C. "While the outcome of the market could be explosive under the right scenario (with) Iran retaliation, there is clearly more selling in the market than buying."
Phil Flynn, senior market analyst for energy at the Price Futures Group in Chicago, concurred that while investors remained worried about an Iran response, oil prices had to retreat "as it is unclear what actions Iran can or will take".
A rash of tensions had put the Middle East and the world on the edge after Soleimani's killing.
Iran said it was abandoning limits to uranium enrichment, a step required for making nuclear weapons. Iraq's parliament voted to expel U.S. forces from the country, prompting President Donald Trump to threaten Baghdad with sanctions. Rockets also fell all over Iraq on Monday, with no human casualties reported. Separately, fighting broke out in Libya.
Tehran and Washington also exchanged strike threats. Iran's Supreme Leader Ayatollah Ali Khamenei vowed "harsh revenge" for Soleimani's death while Trump said he has identified 52 targets in Iran, including sites of cultural prominence, in a plan for a counter attack that may be "disproportionate". The U.S. Defense Department later downplayed the idea the U.S. would hit non-military targets.
But with Iran still mired with internal troubles after a stampede at Soleimani's funeral that killed dozens of people, and leaders of the Islamic republic saying they would avenge his death at the time of their choosing, global markets, including that of oil, have tried to move on.
Investors were also fixated with what the U.S. Energy Information Administration could report on Wednesday for oil inventory data for the first week of 2020.
In the previous week, for the dataset ending Dec. 27, the EIA said fell by a staggering 11.5-million barrels, nearly four times more than forecast. Even so, that number was perfectly offset by the total rise in and reported by the EIA.
Flynn of the Price Futures Group said the crude stockpile decline in the final week of December may particularly "be hard to match because of fog in the Houston shipping channel" last week.
Analysts expect the EIA to report a crude drawdown of 3.57 million barrels for the week ended Jan. 3. As always, industry group American Petroleum Institute will issue a snapshot at 4:30 PM ET (21:30 GMT) Tuesday on what the EIA will likely report.