Oil Jumps 2% on Surprise Possible Delay to Mexican Tariffs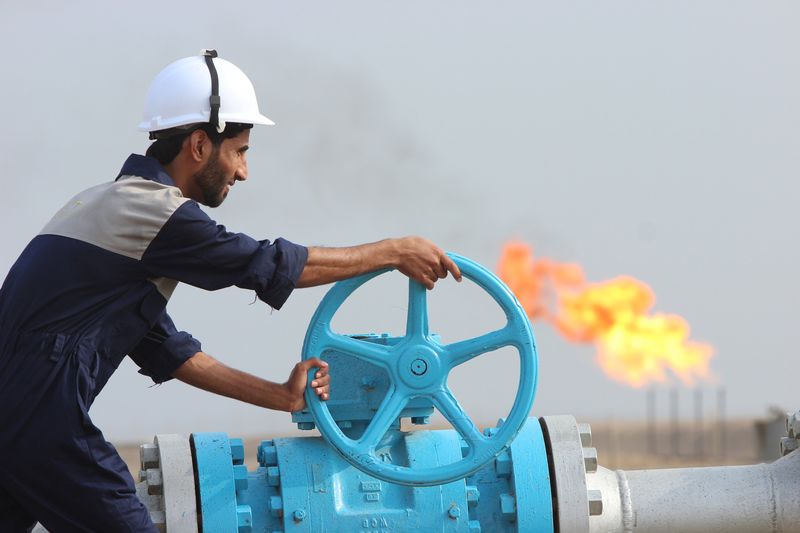 © Reuters.
By Barani Krishnan
Investing.com – The sheer domination of trade wars on global markets narrative was proven again on Thursday when oil prices reversed course from the battering they had taken in recent days to settle up 2% on a report that U.S. tariffs on Mexico might be delayed.
The U.S. is considering delaying President Donald Trump's threatened tariffs on Mexico as talks continue over stemming the flow of undocumented migrants and illegal drugs from Central America, Bloomberg said. The report fired a late stocks rally on Wall Street and led to a jump of about $1 per barrel in key crude oil benchmarks.
settled up 91 cents, or 1.7%, at $52.51 per barrel, after spending most of the day in negative territory. In post-settlement trade, WTI was up more than 2%.
WTI sunk to $50.62 on Wednesday, its lowest level since Jan. 14, after the U.S. Energy Information Administration reported a of nearly 7 million barrels, versus expectations for a draw of 850,000.
, the U.K.-traded global benchmark for oil, rose $1.04, or also 1.7%, to settle $61.67 a barrel. Like WTI, it continued to rise after settlement, trading more than 2% higher.
Brent hit a five-month low of $59.45 on Wednesday, breaking below the key $60 per barrel support, after the crude stockpile build reported by the IEA.
Just in April, WTI reached 2019 highs of $66.60 and Brent $75.60 from the combination of OPEC production cuts and U.S. sanctions on Iranian and Venezuelan crude exports. Since then, the escalating U.S.-China trade row and surprise tariffs proposed by the Trump administration on Mexico has dominated the narrative in oil, sparking global recession worries.
The Bloomberg report said President Trump had not greenlighted the plan to halt tariffs on Mexico. But Mexican officials were pushing for more time to negotiate over concerns the two sides won't be able to reach agreement quickly on the president's demands that the flow of undocumented migrants and drugs from across the border be halted.
The report added that chances are the first 5% tariffs due on Mexican imports from Monday were likely to go through. But if Mexico follows through on promises to crack down on migration, the duties could be short-lived, the report quoted a U.S. official as saying.
CNBC, meanwhile, said in another report that talks between U.S. and Mexican officials, which began Wednesday and resumed earlier Thursday, were poised to continue at 5:30 p.m. ET at the State Department, according to a key Mexican government negotiator.
Oil markets have had a volatile two months, with initial year-to-date gains of more than 40% having dwindled to about 15% as global economic concerns intensified amid a worsening outlook for crude demand.
Aside from last week's unexpected crude build, the EIA also reported that increased by 3.21 million barrels last week, compared to expectations for a gain of 0.63 million barrels. rose by 4.57 million barrels, compared to forecasts for a build of 0.50 million.
Over and above that, U.S. crude production hit new record highs of 12.4 million barrels per day. Total petroleum stockpiles grew by about 22 million barrels last week, the biggest jump going back to 1990, marking a three decade high.
That all these builds were occurring with just about two weeks to the official start of summer — a period when driving and demand for fuels are at their peak in the U.S. — has roiled the market.
Some argue that the fundamentals in oil — with OPEC expected to call for deeper cuts when it meets on June 25 with Russia and other main producing allies to boost the market — belie current prices.
Others acknowledge the disconnect as the functions of a balanced market that had weighed all merits and decided this was where it had to trade.