Oil Sinks as Traders Exploit Russian Bear Impact on OPEC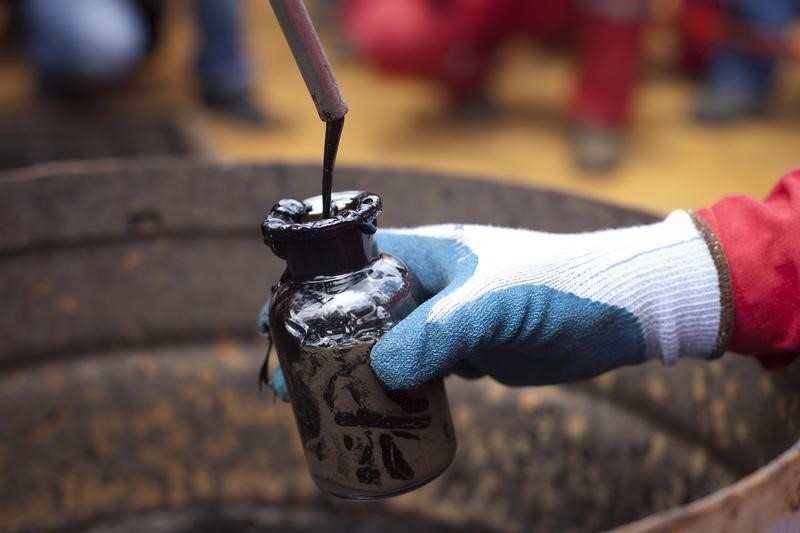 © Reuters.
By Barani Krishnan
Investing.com – The Russian silence is costing oil bulls dearly.
Crude prices fell for a third-straight day on Moscow's hesitation to greenlight a 600,000-barrels-per-day output cut proposed by an OPEC technical committee to counter the coronavirus crisis.
, the London-traded benchmark for crude oil, settled down $1.20, or 2.2%, at $53.27 per barrel.
New York-traded , U.S. crude benchmark, closed down 75 cents, or 1.5%, at $49.57.
Since hitting nine-month highs in the first week of January, crude prices have closed down each of the past five weeks. Brent and WTI are now down about 20% each on the year, falling into bear-market territory.
Russian Energy Minister Alexander Novak said on Friday his administration needed more time to decide whether to join additional oil output cuts proposed by the OPEC technical committee because it had reasons to believe U.S. crude production growth could slow while global demand appeared solid.
Some analysts think Moscow is basically skeptical that even the 600,000 bpd of cuts proposed by OPEC would be enough to assuage and boost the market. If the cuts weren't, then all the Russians would have done is lose more market share without getting corresponding price returns.
"Russia wants to take some time before accepting anything, and it might also be that the 600,000 of additional cut is not convincing, even to Russia," said Olivier Jakob, founder of the PetroMatrix oil risk consultancy in Zug, Switzerland.
The Russian indecision came as top buyer China's demand for oil was estimated to be falling by hundreds of thousands of barrels daily from the viral pandemic that had virtually crippled whole parts of its economy from travel to automobile assembly, among others.
"The run cuts in China due to the coronavirus are coming at the same time that European and U.S. refineries go on maintenance turnarounds, and the pressure is starting to show in physical crude oil," Jakob added.
The OPEC technical committee meeting, which ended on Friday without a production cut deal was precursor to a more important two-day gathering scheduled March 5-6 among oil and energy ministers of OPEC+, a larger group comprising the 13-member OPEC and its 10 allies, which include Russia.
Amena Bakr, deputy bureau chief in Dubai for markets advisory service Energy Intelligence, said in a tweet on Friday there was speculation that the March gathering could be brought forward to as early as Feb. 14-15.
But if that meeting too passes without a deal, then Brent could seriously be at risk of breaking its $50 support level while WTI could fall to $45 or below, say traders.
"Unless we see a substantive enough cut from OPEC, the forward curve in crude will move further into contango, encouraging storage in oil and even more price weakness ahead," said Tariq Zahir, managing member at the oil-focused Tyche Capital Advisors in New York.
Contango is a situation in commodity markets where the front-month trades at a discount to farther-out months for oil delivery. Contango doesn't benefit the funds that invest passively in commodities. These funds maintain their positions by moving from an expiring front-month into the nearby position. The switch, or roll, incurs losses when the move involves a costlier contract.
The contango in Brent's front month versus second is currently at around 40 cents per barrel. For WTI, it stands at about 20 cents. Any deepening of the discount could result in the kind of massive oil storing seen during 2014-2016 as those holding physical barrels become determined not to be forced into a fire sale of the commodity as dictated by futures prices.
"One could argue that all of this information has already been discounted in the market with $50 WTI, $55 Brent and contango in the front of the market, but it's bearish nonetheless," said Scott Shelton, energy futures broker at ICAP in Durham, N.C.
"OPEC has yet to agree to cuts, and I think a cut of 600,000 barrels with the amount of losses in refinery runs may result in a sell-the-fact result at this point."