StockBeat: Markets Rout as China Hints at Currency War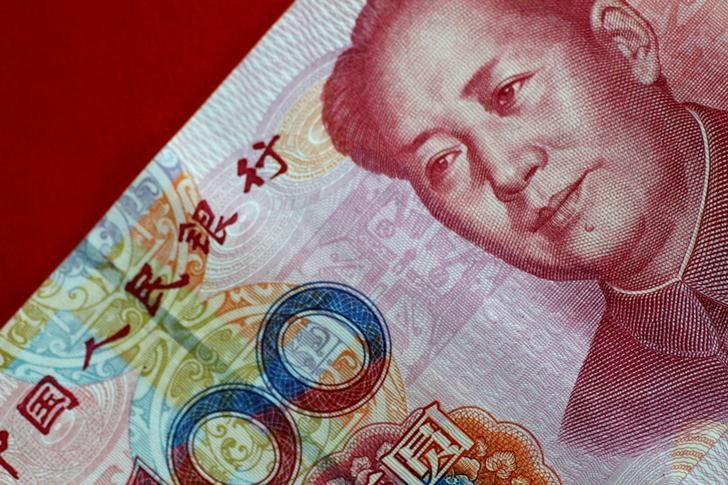 © Reuters.
By Geoffrey Smith
Investing.com — Europe's stock markets faced a test of nerve on Monday – and resoundingly flunked it.
Markets succumbed to a general rout after China allowed its to fall below the closely-watched level of 7 to the dollar for the first time since the Global Financial Crisis of 2008, a move aimed at neutralizing the effect of U.S. tariffs on Chinese corporate profitability. Beijing also instructed state buyers to stop buying U.S. for good measure.
China's step raises the risk of competitive devaluations elsewhere in a "race to the bottom", not least in the U.S., where President Donald Trump has railed relentlessly against what he perceives to be the dollar's overvaluation and the Federal Reserve's unwillingness to end it by loosening monetary policy.
In signaling the breakdown of talks between the two countries on trade, it also makes it more likely that the 10% tariff hike on U.S. imports of some $300 billion worth of Chinese goods will come into force in September, as threatened last week by Trump. At the very least, it pushes back the day when the U.S. and China settle a trade dispute that has battered Europe's export-sensitive blue-chip boards.
By 5 AM ET (0900 GMT), the benchmark was down 2.0% at a two-month low of 370.40, while the German was down 1.6%, while the was down 2.1% and the Italian down 1.5%
For the most part, it was those with the biggest exposure to China and the U.S. that led the way down. Plant hire group Ashtead (LON:), a rough proxy for U.S. business investment, fell 4.6%, while metals and mining groups all suffered as the prices of their most important commodities fell by as much as 8%. miner Antofagasta (LON:) fell 3.5%, while Anglo American (LON:) fell by 3.3%, Glencore (LON:) by 3.0% and Rio Tinto (LON:) by 2.5%. By contrast, Fresnillo (LON:) rose 4.3%, anticipating windfall gains in gold prices.
Steelmakers ArcelorMittal SA (AS:) and Thyssenkrupp (DE:) fell 4.5% and 3.6% respectively, threatened by the prospect of even cheaper Chinese steel exports.
Chipmakers Infineon (DE:), STMicroelectronics NV (PA:) and ASML (AS:) all fell between 2.1% and 3.5%, while Adidas (DE:), whose Chinese-made sportswear will be hit by the proposed new tariffs at the U.S. border, fell 3.2%.
Luxury goods makers, with their high exposure to both the Chinese and U.S. markets, were also hit badly, with Switzerland's Richemont (SIX:) and Swatch (SIX:) both falling nearly 5%, while LVMH (PA:) fell 3.3% and Burberry (LON:) 3.5%. The spiraling unrest in Hong Kong, a key market for luxury sales, merely added to the general malaise.
Automotives also suffered, with components groups Faurecia (PA:), Valeo (PA:) and Schaeffler (DE:) the worst hit. The standout performer was Renault (PA:), which rose 0.4% after restarting talks with Nissan (T:) about reviving their troubled strategic partnership.
But some of the biggest losers were in banks, a sector that would suffer largely second-round effects from an outright currency war between the U.S. and China. BNP Paribas (PA:), Credit Agricole (PA:) and Natixis (PA:) all fell over 2% on the perception that the ECB will act even more aggressively than it has signaled to stop the euro rising against the yuan and dollar. China-focused HSBC (LON:) fell even more, by 3.6%, as it ousted CEO John Flint after only 18 months.