Stocks – US Futures Suggest Strong Open After China Rebound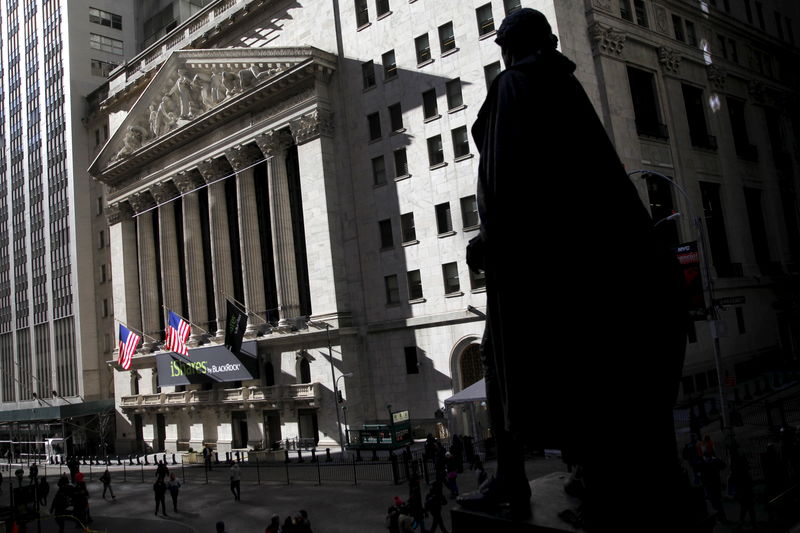 © Reuters.
By Peter Nurse
Investing.com – U.S. stocks are set to open sharply higher Tuesday, helped by a rebound in China after the country's central bank moved to underpin the markets. The continuing earnings season on Wall Street and the latest political maneuvering will also be in focus.
At 6:55 AM ET (1155 GMT), futures for the traded 36 points, or 1.1%, higher, futures for the up 117 points, or 1.3%, while the futures contract rose 309 points, or 1.1%.
Earlier Tuesday, financial markets on the Chinese mainland reversed some of the steep losses of Monday. The blue-chip index closed over 1% higher, compared with Monday's drop of 7.7%, thanks mainly to the People's Bank of China saying it will inject a total of 500 billion yuan into the money market to "maintain reasonable and adequate liquidity in the banking system during the period of epidemic prevention and control."
The country's central bank had already trimmed interest rates and injected 1.2 trillion yuan into the markets on Monday, although most of that was rolling over liquidity it had provided before the holidays.
Signs that the Chinese authorities will do whatever is necessary to curb the impact of the coronavirus have helped the tone on Wall Street. With this in mind, the focus will turn back to the ongoing earnings season.
Google parent Alphabet (NASDAQ:) reported after hours Monday, missing analysts' estimates while offering up its worst fourth-quarter revenue growth since 2015. Alphabet stock dropped 3% premarket.
Walt Disney (NYSE:) is set to report its fiscal first quarter 2020 figures after the market closes later Tuesday, and the market will be looking for guidance about its new streaming service, as well as any coronavirus impacts on its theme parks and movie box office expectations.
Ford (NYSE:) is also set to report fourth quarter earnings Tuesday. The automaker reported a lackluster previous quarter, and analysts expect another contraction in revenue as well as subdued earnings – and that's before the problems in China are accounted for.
The earnings season has generally been a positive one for Wall Street this quarter, with almost 70% of companies which have already reported beating expectations.
Elsewhere, Tesla (NASDAQ:) stock is likely to stay in focus after melting up almost 20% Monday. Sentiment surrounding the company is very positive in the wake of the company's fourth-quarter results and guidance for 2020. The stock pushed 7.5% higher premarket to $838.50, a gain of nearly $200/share from Friday's closing price of $650.57.
Eyes will also be on the State of the Union speech by U.S. President Donald Trump as his impeachment trial continues. He is widely expected to be acquitted on Wednesday, and the technology problems and reporting inconsistencies which kept Iowa Democratic Party officials from releasing results from Monday's caucus can only help his reelection prospects.
Economic data releases of note Tuesday include the at 08:55 AM ET (1355 GMT) and December at 10:00 AM ET (1500 GMT), before the American Petroleum Institute releases its weekly data on U.S. inventories at 4:30 PM ET (2130 GMT).
AT 06:55 AM ET (1155 GMT), futures climbed 1.3% to $50.76 and the international benchmark contract rose 0.6% to $54.76, still below the $55 level after Monday's drop below that level for the first time since the end of 2018.
These prices have been helped by the news that technical experts from OPEC+ expected to meet at the cartel's Vienna headquarters later in the day to study the disease's impact. There has been talk that the group will decide to cut production to try and raise prices from these weak levels.
were down 0.6% at $1,573.05 a troy ounce, while the was up 0.1% at 97.740.