Top 5 Things to Know in the Market on Friday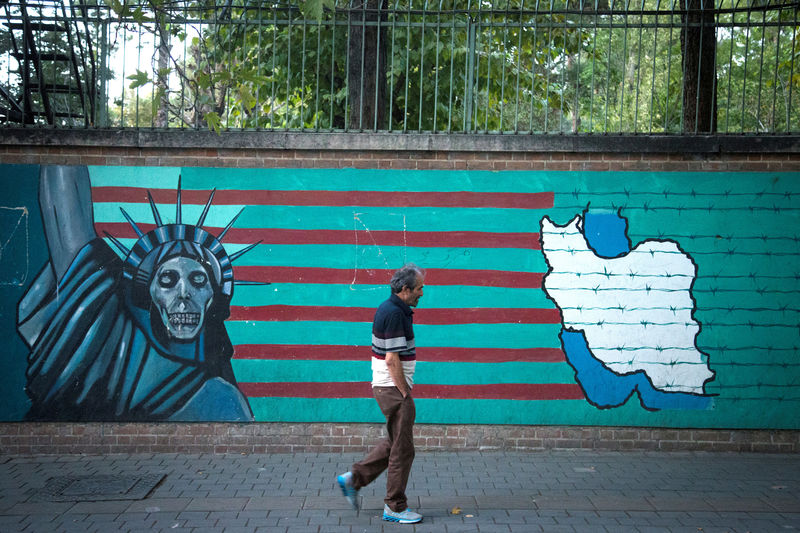 © Reuters.
Investing.com — A U.S. airstrike on Baghdad airport kills Iran's most important military commander, sending the price of oil and gold skyrocketing and reversing all of Thursday's gains in equities and then some. The Islamic Republic, which was accused by the U.S. of being behind the attacks on Saudi Arabia's oil facilities in September, has promised swift retaliation. Nothing on the calendar comes close to mattering as much in markets today, but there will be the release of the minutes from the Fed's latest policy meeting and the ISM manufacturing survey. Here's what you need to know on Friday, 3rd January.
1. U.S. airstrike kills Iranian commander; Iran vows revenge
Iran promised swift retaliation after a U.S. airstrike in Iraq killed one of its most senior military leaders.
Qassem Soleimani was commander of the elite Quds force, an arm of the Revolutionary Guard, and was behind the recent expansion of Iranian military influence from Syria to Yemen.
He was widely seen as the second-most powerful man in Iran after Supreme Leader Ali Khamenei.
The attack represents a sharp escalation of recent tensions in Iraq between the various powers vying for influence there, and has further raised fears of a drawn-out conflict across the region.
2. Oil, havens surge
Oil and gold prices surged to their highest in four months in the wake of the attack as traders fearing a severe Iranian response moved to insure themselves against disruptions to world crude supply.
futures rose 3.7% to $63.48 a barrel by 6 AM ET (1100 GMT), while the international benchmark rose 4.0% to $68.89 a barrel. Neither blend has been as high since the immediate aftermath of the attack on Saudi Arabia's oil facilities in September, a move which the White House also blamed on Iran.
, meanwhile, rose 1.6% to $1,551.95 a troy ounce. That's its highest mark since President Donald Trump threatened to escalate the trade war with China back in September. Gold has been tipped for further gains this year by many investment analysts, who argue that with trillions of dollars of government bonds worldwide offering negative yields, the relative fundamentals of non-yielding gold look attractive.
3. Equities reverse Thursday gains
By contrast, U.S. stock markets are set to follow Asian and European markets lower when they open.
By 6:15 AM ET, were down 355 points, or 1.2%, while were down 1.4% and the contract was down 1.6%.
In Europe, the benchmark index was also down 1.1%, with automotive and basic industries stocks faring the worst.
The S&P 500 contract showed an engulfing reversal pattern, having opened above the previous day's close but then immediately fallen below Thursday's low. That's generally thought to be a clearly bearish signal by technical analysts.
4. U.K. housing market picks up; retail boost seen
The U.K. economy wasn't all doom and gloom at the end of the year after all. House prices rose at the fastest rate in a year, according to mortgage lender Nationwide.
The lender's closely-watched survey said prices rose 1.4% in December 2019 from a year earlier, an acceleration from a 0.8% rise in November and the fastest annual rise since November 2018.
In addition, fashion chain Next PLC, seen by some as a bellwether for the retail sector, revised its full-year guidance up after saying holiday season sales were slightly above expectations. The news kept Next's and other retail stocks' losses within those of the broader market.
That said, the U.K.'s construction purchasing managers index fell again in the month to 44.4 from 45.3, underlining that a key part of the economy is still shrinking.
5. Fed Minutes, ISM Manufacturing PMI due
The Federal Reserve will release the minutes of its December policy meeting at 2 PM ET (1900 GMT). We mistakenly reported in yesterday's Top 5 Things that the release would be on Thursday but it was of course delayed by a day due to the New Year holiday. We apologize for the error.
The New Year holiday also means that the monthly employment report will be released on Jan. 10th, and not on the first Friday of the month as is usual.
For data geeks, there will at least be the ISM manufacturing survey, at its usual time.