Top 5 Things to Know in the Market on Monday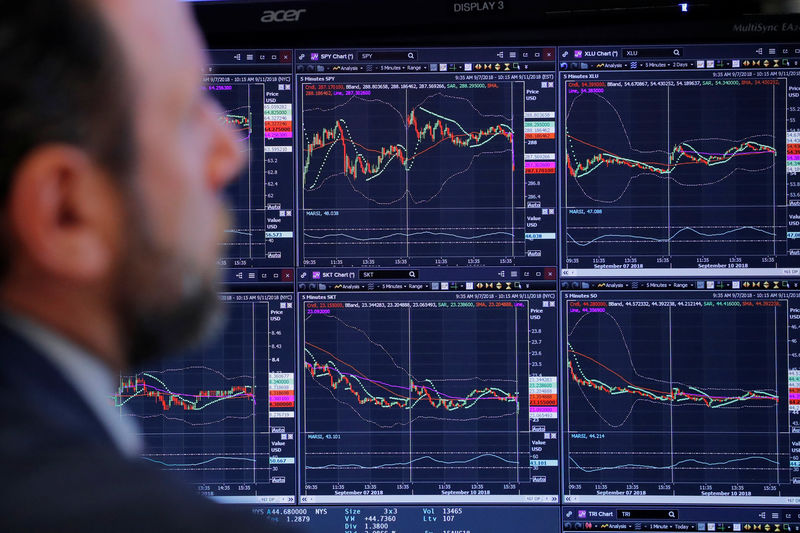 © Reuters.
Investing.com — The U.S. government sounds the alarm over e-cigarettes after a wave of acute and sometimes fatal lung failures, China's exporters feel the pain of President Trump's tariffs and Saudi Arabia replaces its oil minister. Here are the top 5 things you need to know on Monday, 9th September.
1. Stocks set for higher opening
Wall Street is set to open the week modestly higher after a relatively drama-free weekend, at least as regards the key issues of trade and monetary policy.
By 6 AM ET, were up 65 points or 0.2%, while the contract was up 9 points or 0.3% and were up 22 points or 0.3%.
Neither the nor the bond markets are showing any clear direction in the wake of a labor market report on Friday that showed slowing payrolls growth but solid wage gains and, in the words of Harvard economist Megan Greene, allowed everyone to project their existing prejudices onto it.
Read More: Fact Check: With S&P 500 Flat This Year, Is Holding Long-Term Still Smart?
2. Everybody hurts, especially Chinese exporters
China's economy is hurting from the imposition of U.S. tariffs. Fresh data overnight showed down by 1% on the year in August, well short of the 2% rise expected. fell by a slightly smaller-than-expected 5.6%, while the country's trade surplus fell by nearly a quarter to $34.8 billion from $45 billion in July.
The figures come only days after others showing that the U.S.'s trade deficit with China is clearly narrowing, even though its overall trade deficit hasn't fallen that much.
Elsewhere, there were signs of life from the stricken German economy, with eking out a gain of 0.7% on the month in July and defying expectations for another drop.
3. Tobacco, cannabis stocks in focus after CDC warning on vaping products
Tobacco stocks may be in focus later after the Center for Disease Control and Prevention late on Friday that vaping products may be responsible for a wave of sudden and acute health problems.
The CDC said that its investigation is ongoing and has not identified a cause, but all reported cases have a history of using e-cigarette products.
The news comes barely a week after reports that Philip Morris International Inc (NYSE:) and Altria (NYSE:) were looking at re-combining, with a view to reviving growth through e-cigarette products.
4. U.K. Parliament set to debate new elections
Another crucial week for sterling started with Prime Minister Boris Johnson being told by his Irish counterpart Leo Varadkar that he has seen no acceptable substitute for the so-called "backstop" arrangements designed to safeguard smooth trade across the Irish border after Brexit.
Over the weekend, Amber Rudd, a senior minister, had resigned from Johnson's government saying she saw no evidence that he wanted to secure a deal with the EU before the Oct. 31 deadline, while other ministers had to deny rumors that they would soon follow suit.
The bill passed last week that requires Johnson to ask for a three-month extension of the Brexit deadline is set to receive royal assent and become law Monday. The House of Commons will then debate the possibility of a snap General Election, which is now widely seen as the only way of breaking the current logjam. The British pound rose 0.6% against the and 0.3% against the after a modest upside surprise from July's and data.
5. Saudi Arabia fires oil minister
Saudi Arabia Khalid al-Falih as Energy Minister with Prince Abdulaziz bin Salman, an energy ministry veteran and the half-brother of Crown Prince Mohammed bin Salman, the kingdom's de facto ruler.
The appointment breaks with tradition, in as much as Saudi Arabia has generally not entrusted the all-important oil ministry to a single member of the royal family before. As such, the move appears to be more of an attempt to consolidate power by "MBS".
Abdulaziz told reporters Monday there would be no radical change to Saudi output policy. Some saw his appointment as more concerned with speeding up the timeline for the initial public offering of national oil company, Saudi Aramco.
Oil prices have ticked up over the weekend, supported by Iran's final break with the UN agreement limiting its nuclear enrichment limits, and by Baker Hughes' which showed the number of active oil rigs falling to the lowest in two years last week. By 6 AM, futures were up 0.9% ta $57.05 a barrel, while futures were up 0.8% at $62.05 a barrel.