Top 5 Things to Know in the Market on Monday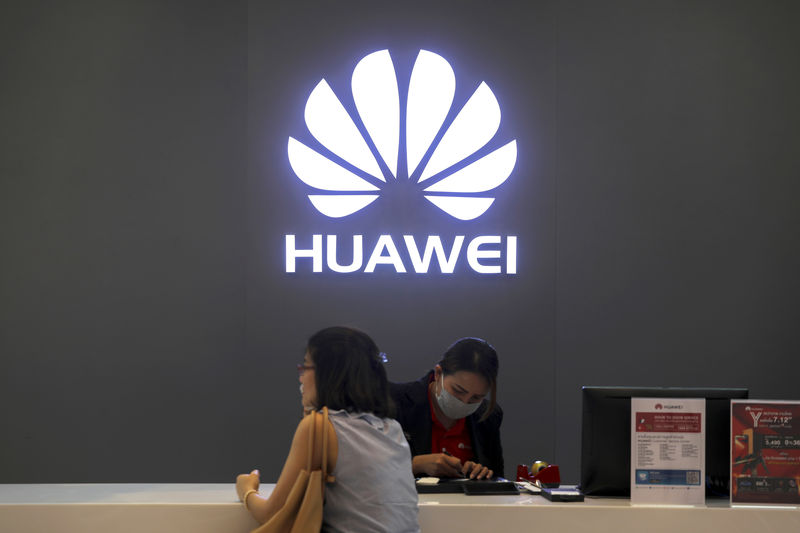 © Reuters.
Investing.com — These are the top 5 things you need to know in financial markets on Monday, 20 May.
Stocks fall as U.S. companies start Huawei boycott
Tech stocks are set to open sharply lower after weekend reports that Qualcomm (NASDAQ:), Broadcom (NASDAQ:) and others have stopped shipping components to in the wake of last week's executive order. Alphabet (NASDAQ:) has also reportedly suspended licensing of Android software to Huawei's smartphones, in what represents a heavy blow to the Chinese company.
As of 5:30 AM ET (0930 GMT), the tech-heavy contract was down 36 points, or 0.5%, while the broader contract was down 3.9 points and the contract was down 31 points, both representing a drop of 0.1%.
Overnight, China's index had lost 0.9%, while Europe's bourses slid after a mixed start. Chipmakers Infineon (OTC:) and STMicroelectronics (NYSE:) were among the biggest losers.
2. Powell's reaction function
No less than four top officials from the Federal Reserve will speak in public today, which should give markets a decent idea of how the central bank intends to react to the impact of an escalating trade dispute on the economy.
Philadephia Fed President gets the ball rolling at 9:30 AM ET, followed by vice-chairman and New York Fed President at 1.05 PM. rounds off the day with a speech at 7 PM ET.
, at 2.22%, are still nearly 20 basis points below those on three-month T-bills, implying widespread belief that the Fed will cut rates sometime over the next year or so to address a probable weakening in the economy.
3. Oil prices volatile on signs of Saudi-Russia split
Oil prices see-sawed early Monday as signs of a split emerged among the world's biggest exporters over whether or not to keep barrels off the market after June, when the current so-called "OPEC+" deal on output restraint ends.
Saudi Arabian Oil Minister was quoted at the weekend saying that there is support for extending the deal, while Russia's Energy Minister Alexander Novak cautioned that the parties were still exploring "various options".
Prices are still being supported by geopolitical tensions as the U.S. , while Russia is still struggling to remove contaminated oil from its export pipeline system.
At 5:45 AM, U.S. were up 0.5% at $63.22 a barrel, while international blend futures were up 0.6% at $72.61.
4. Victories for Modi, Morrison propel Indian, Australian markets
The world's biggest democracy returned Narendra Modi's BJP-led coalition to power, according to preliminary estimates. That led the to rise more than 1% against the dollar a two-week high and drove the benchmark index up 3.7% to an all-time high.
Meanwhile, the dollar gained 0.8% against the greenback and the Australian rose 1.8% after Prime Minister 's business-friendly Conservatives surprisingly won a general election in Australia, having been predicted by opinion polls to lose their majority.
5. Populists on the March
The remained under pressure at the start of a week that will see elections to the European Union parliament, amid indications that the continent's mainstream political parties are set for more losses at the hands of mainly right-wing populist parties.
Irrespective of the result, the presidency of the powerful European Commission is likely to remain in the hands of either the center-right European People's Party (which includes German Chancellor Angela Merkel's Christian Democrats) or one of its centrist or center-left rivals. However, a big gain in seats for the fringe parties could make it harder for the EU to adopt any major legislation for the next five years, given the now extensive powers of the EU parliament.
Polling is due to start on Thursday and will continue over the following days.