Top 5 Things to Know in the Market on Thursday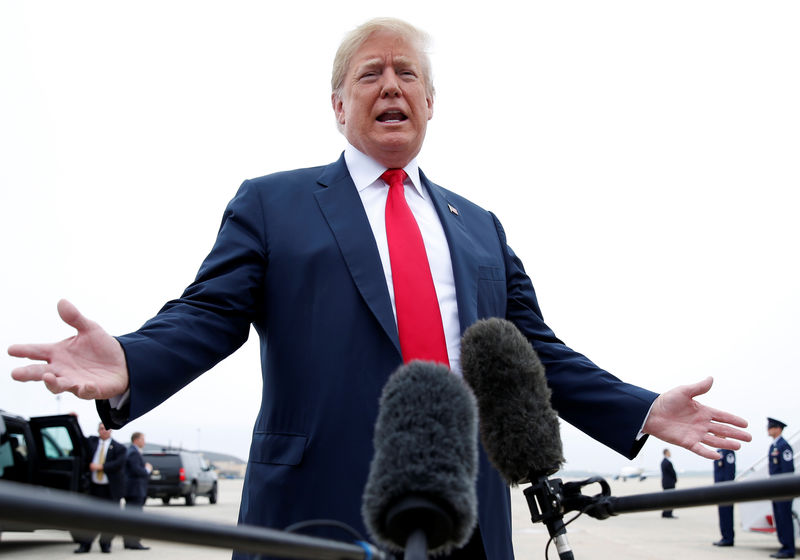 © Reuters.
Investing.com — Markets rise as Donald Trump makes a goodwill gesture to China on trade, while Europe waits to see if the European Central Bank will cut interest rates and restart quantitative easing. And OPEC gets a warning that there's a new oil glut in the offing. Here's what you need to know in financial markets on Thursday, 12th September.
1. Trump delays China tariff hike as goodwill gesture
President Donald Trump said he would postpone the planned 5 percentage point increase in tariffs on $250 billion worth of Chinese imports by two weeks as a .
As a result, the Chinese Communist Party's celebration of taking power 70 years ago will not be overshadowed by the latest episode in a trade war that has slowed the country's economy. It also means that there will have been no further escalation of the dispute by the time U.S. and Chinese trade negotiators meet in early October.
Separately, Bloomberg reported that China is also considering allowing imports of U.S. agricultural products including soybeans and pork to resume, although there was no confirmation of that from either side.
2. Draghi expected to go out with all guns blazing
The European Central Bank will hold a regular policy meeting and is expected to announce a package of measures to support a eurozone economy which is under the impact of U.S. trade policy, but which still grew at an annual rate of 1.2% in second quarter.
The bank is expected by many analysts to lower its deposit rate, currently at -0.4%, even further into negative territory, and to extend its current commitment not to raise rates until the middle of next year. While some expect it also to resume quantitative easing, several ECB officials have argued against it in recent weeks. Measures to soften the impact of negative rates on bank profitability are also expected.
The ECB will announce its and forward guidance at 7:45 AM ET (1145 GMT), and outgoing President Mario Draghi may announce further actions at his at 8:30 AM ET.
3. Stocks set for higher open
U.S. stock markets are poised to open higher on the back of Trump's gesture to China.
By 6 AM ET, were indicated up 64 points or 0.2%, while were up 0.1% and were up 0.3%.
The bond market has settled into a holding pattern ahead of the ECB meeting, as the meeting in Frankfurt could raise the pressure on the Federal Reserve to act if outgoing president Mario Draghi manages to talk the euro down any further at his press conference. The fell back to 2.20% after hitting an overnight high of 2.23% in response to Trump's trade tweeting.
Weekly data and August's numbers are both due at 8:30 AM ET (1230 GMT).
Stocks likely to be in focus include Anheuser Busch Inbev (NYSE:), which is reportedly planning to revive plans for an IPO of its Asian business.
4. U.S. aims to ban most vaping products
President Trump said the U.S. intends to ban most vaping products on public health concerns, highlighting their popularity with teenagers and young adults.
The Food and Drug Administration intends to ban fruit-flavored vaping products, as well as menthol and mint e-cigarettes.
The move could severely crimp a fast-growing markets valued at an estimated $9 billion this year, one that Big Tobacco had seen as their salvation given the decline of traditional cigarettes. It also puts another big question mark over the mooted recombination of Altria (NYSE:) and Philip Morris International (NYSE:), given the importance of market leader Juul Labs, in which Altria has a 35% stake, to that deal. The Juul stake currently accounts for 16% of Altria's market value.
5. OPEC+ no closer to deeper output cuts as IEA forecasts "daunting" market
Officials from the so-called OPEC+ group of oil exporters in Abu Dhabi wagged a finger at those members who are over-producing but chose not to recommend changes to the current deal on output restraint.
Russia, Iraq and Nigeria all pumped above their agreed ceilings in August, and OPEC's own members alone produced some 240,000 barrels a day more than OPEC's own forecasts say the world needs going forward.
Elsewhere, the International Energy Agency warned that the recent decline in world oil stocks was temporary and that rising non-OPEC production would tip the world market well into surplus through 2020, putting fresh downward pressure on prices and creating a "daunting" prospect for OPEC.
were down 0.6% at $55.44 a barrel by 6 AM, while futures were down 0.8% at $60.30 a barrel.