Top 5 Things to Know in the Market on Tuesday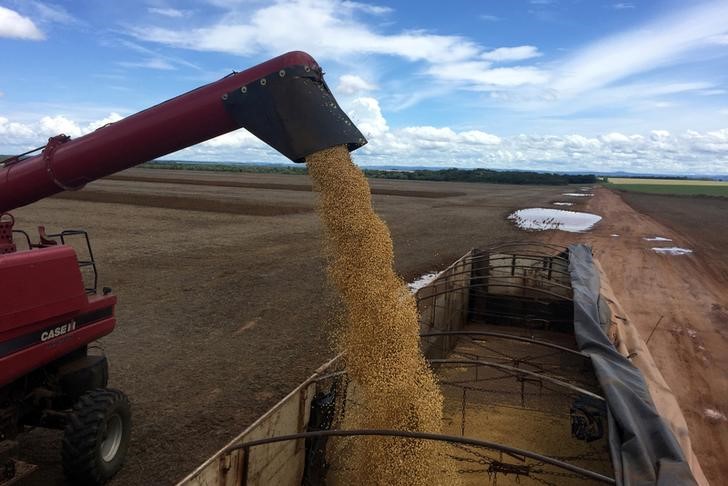 © Reuters.
Investing.com — China gives the green light to some big purchases of U.S. agricultural products, and Donald Trump gets ready to urge the UN to take action against Iran. Meanwhile, there are big court victories for Google (NASDAQ:) and Starbucks (NASDAQ:) in Europe – but Apple (NASDAQ:) should wait before uncorking the champagne. And Boris Johnson's Brexit plans receive another hammer blow. Here's what you need to know in financial markets on Tuesday, 24th September.
1. China gives more waivers to soy buyers
China allowed some big agricultural buyers to buy millions of tons of U.S. without incurring import tariffs, according to Bloomberg.
If confirmed, the news would add some substance to the frustrating two-steps-forward-one-step-back chronicle of takes from both sides on how talks are progressing.
Treasury Secretary Steven Mnuchin told Fox Business Network earlier that he would meet his opposite number Liu He for talks in two weeks, but repeated that President Trump is "happy with the tariffs" if he can't get the trade deal he wants.
2. Trump to address UN; expected to lambast Iran
President Donald Trump is set to address the UN General Assembly, amid expectations that he will press for some kind of action against Iran in response to the attacks on Saudi Arabian oil installations 10 days ago.
The U.S.'s allies in have joined Trump in blaming Iran for the attacks and also called a new expanded deal to regulate Iran's nuclear activities. They still show no sign of endorsing military action, but their call moves them a lot closer to the U.S. position than they have been in months.
Oil prices have essentially traded sideways for the last five days – albeit with slightly elevated volatility – as the risk of conflict has appeared to recede, without being entirely banished. U.S. were down 1.1% at $58.02 a barrel by 6 AM ET, while was down 1.1% at $64.08.
3. Court boosts for Google (NASDAQ:) and Starbucks (NASDAQ:); defeats for Fiat Chrysler – and Boris Johnson
The European Union's top court ruled that doesn't have to take down search results on a worldwide basis to comply with its "right to be forgotten" ruling, a rare victory for the Internet giant in Europe.
too won its appeal against an antitrust ruling that ordered it to repay 30 million euros in tax to the Netherlands, but Fiat Chrysler lost a similar appeal. As such, it's hard to read the tea-leaves when it comes to the most important outstanding antitrust and tax – the one ordering Apple (NASDAQ:) to repay over 13 billion euros in taxes to Ireland.
Elsewhere, the ruled that Boris Johnson's decision to suspend parliament was unlawful, which opens the door for lawmakers to amp up their efforts to stop him taking the country out of the EU at all costs on Oct. 31. Sterling rose against both the dollar and the euro.
4. Stocks set for higher open; Nike (NYSE:) earnings due
Wall Street may get the taste for another run at some fresh all-time highs in the wake of the morning's court rulings and trade news.
By 6 AM ET, were up 85 points, or 0.3%, while were also up 0.3% and back above 3,000. were up 0.4%.
is due to report on the start to its new fiscal year after the bell, while in the IPO market, Anheuser Busch Inbev (BR:) floated its Asian brewing operations at the bottom end of the marketing range.
5. U.S. data exceptionalism?
Can the U.S. economy build on Monday's stronger-than-expected IHS Markit survey, which stood out like a shining light against a backdrop of gloom in Japan and Europe?
The survey at 10 AM ET will shed some light, as will the Conference Board's index and the Fed's survey, due at 10 AM and 8:55 AM respectively. The is also due out at 9 AM.