Top 5 Things to Know in the Market on Wednesday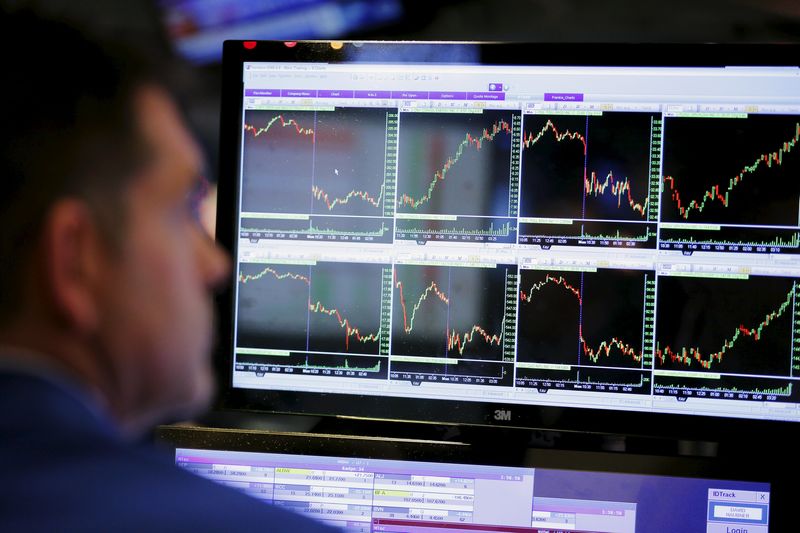 © Reuters.
Investing.com – Here are the top five things you need to know in financial markets on Wednesday, August 28:
1. Pound slides on reports of extended recess for U.K. Parliament
The pound slid against the and after Prime Minister Boris Johnson announced he had requested Queen Elizabeth to from Sept. 9 to Oct. 14.
The move was hailed as a tactic to curtail parliamentary procedures that could lead to legislative changes that would prevent the U.K. from leaving the European Union on Oct. 31 without a deal, known as a "hard Brexit".
2. 30-year Treasury yield hits record low
The on the 30-year U.S. Treasury bond hit a , keeping markets on edge as they watch current yield curve inversions.
The 30-year yield fell below that of paper a day earlier for the first time since 2007, meaning that investors were willing to loan the U.S. government money at a lower rate for the longer-term bond.
The more closely followed premium on the over the , considered a precursor for recession, reached 6 basis points, a spread also not seen since 2007.
The 2-year rate has passed that of the 10-year ahead of every recession over the past 50 years. On average, yield curve inversion comes 22 months ahead of the impending recession, according to Credit Suisse.
3. U.S. futures steady despite yield curve inversion
held steady, managing a slight bounce after a triple-digit decline in the in the .
Traders appeared to have taken a pause from concerns over the yield curve inversion, while Sino-U.S. trade tensions were put on the back burner as markets awaited the next round of tariffs.
Washington will apply the first stage of U.S. tariffs on $300 billion worth of Chinese goods on Sunday, just ahead of the Labor Day holiday while Beijing will enact its retaliatory tariffs on the same day.
On the earnings front, (NYSE:) and (NYSE:) were among companies set to report ahead of the open, while (NYSE:) and (NASDAQ:) will be on tap after the close.
Mixed readings came from reports released after Tuesday's close. Shares in Autodesk (NASDAQ:) tumbled 11% in premarket trade after issuing a cautious forecast, while Hewlett Packard Enterprise (NYSE:) jumped nearly 6% as it .
Read more: – Jesse Cohen
4. Fedspeak in focus for clues on easing
As uncertainty over whether the U.S. and China will resume trade talks dominates market direction and supports the Federal Reserve's dovish monetary policy stance, investors will have the opportunity to hear from policymakers for further signs the U.S. central bank will cut its next month.
Richmond Fed President will speak at 12:20 PM ET (16:20 GMT); while San Francisco Fed chief will speak at 5:30 PM ET (21:30 GMT).
Expectations for an aggressive Fed rate cut at the central bank's next meeting were dented by better-than-expected on Tuesday, suggesting the U.S. economy remains on solid footing.
5. Oil gains on inventory draw, EIA data on tap
after the American Petroleum Institute reported late Tuesday that plummeted by 11.1 million barrels last week.
Official government data from the Energy Information Administration will be released at 10:30 AM ET (14:30 GMT) with forecast to fall by just 2.1 million barrels. If the EIA confirms API's reading, that would be the largest decline in nine weeks.
— Reuters contributed to this report.