Top 5 Things to Know in the Market on Wednesday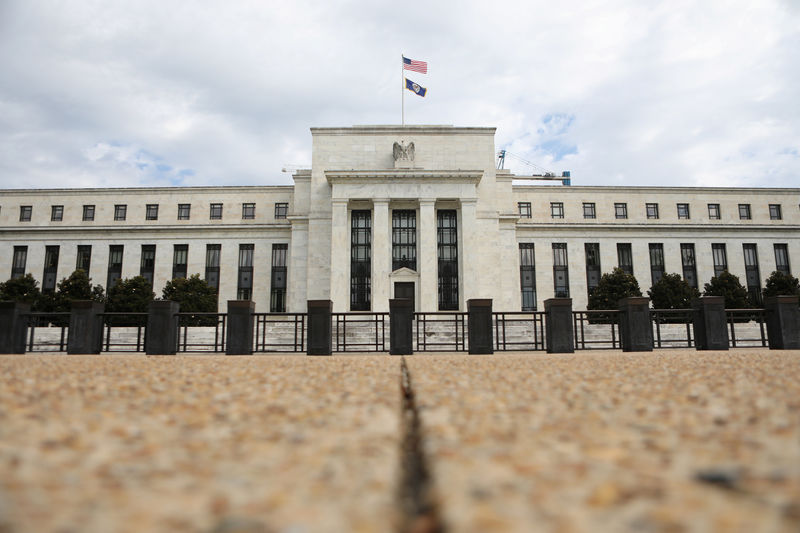 © Reuters.
Investing.com — The Fed is expected to cut interest rates for the third time this year, against the backdrop of an economic slowdown that is likely to be confirmed in third-quarter GDP numbers earlier in the day. Apple (NASDAQ:), Facebook (NASDAQ:), Starbucks (NASDAQ:) and a host others including GE report quarterly earnings. Here's what you need to know in financial markets on Wednesday, 30th October.
1. The Fed decides, the Fed guides
The is expected to cut the target range for federal funds to between 1.50% and 1.75%, the third such cut this year, in an effort to sustain an economy buffeted by the trade dispute with China and no longer supported to the same degree by President Trump's 2017 tax cut.
The decision will come hard on the heels of the first reading for growth in the third quarter at 8:30 AM ET (1230 GMT). Analysts expect growth to have slowed to an annualized 1.6%, the lowest rate since the first quarter of 2017, from 2.0% in the second quarter.
The Fed will announce its decisions as usual at 2 PM ET, and Chairman Jerome Powell's will follow half an hour later. With a rate cut taken for granted, market attention will be on the guidance for the future path of monetary policy.
2. Silicon Valley giants to report earnings
and will keep things busy after the Fed, when they report quarterly earnings after the closing bell.
Facebook (NASDAQ:) is expected to show slowing growth but sustained good profitability in the face of rising regulatory challenges. Facebook is expected to report earnings of $1.90 a share on revenue of $17.36 billion. Earnings would be up 7.95% from a year ago. Revenue would be up 26.4%. Monthly active users are expected to rise to 2.45 billion for the quarter, up about 8% from the year-ago period's 2.27 billion.
Apple's results are likely to be less exciting, given that it's the upcoming holiday quarter that really makes or breaks its year. Even so, it will shed important light on market dynamics in China against the backdrop of the ongoing trade war. Analyst estimates compiled by Investing.com project earnings of $2.83 a share, down slightly from a year ago. Revenue is estimated at $62.9 billion, up 2.4%.
3. Stocks set to open flat
U.S. stock markets have retreated, as usual, into a holding pattern ahead of the Fed's decision and press conference later in the day.
By 6:30 AM (1130 GMT), were down 10 points, effectively unchanged, while the and contract were also flat.
Asian and European markets had weakened overnight, hit by some conspicuously poor earnings. Deutsche Bank (DE:) fell 5.4% to a two-week low after swinging to a worse-than-expected loss, dragging down other European banks. Fiat Chrysler (NYSE:) and Peugeot SA (PA:) both surged after confirming merger talks while Volkswagen (DE:) upheld its full-year forecasts despite sounding gloomier about world auto markets.
In addition to Facebook (NASDAQ:) and Apple (NASDAQ:), today's earnings roster includes updates from , , , , , , , , , , , , , , and .
4. Faux meat's warning to IPO investors
Shares in Beyond Meat Inc (NASDAQ:) are stabilizing after Tuesday's 22% drop as early investors, who were prohibited from unloading their stocks for six months after the company's IPO, cashed out in style.
Given the company's performance since listing, they were still able to make a handsome profit. But the drop sent a strong warning signal to investors in other big IPOs from the first half of this year. The lockups for Uber (NYSE:), Pinterest (NYSE:) and Zoom Video (NASDAQ:) are also approaching their end (Uber's comes next week).
5. Oil inventories due
The U.S. government will publish its weekly update on at 10:30 AT ET (1430 GMT), a day after the estimated crude inventories rose by a modest 592,000 barrels last week.
The Energy Information Administration's report last week showed a startling drop in both crude and refined products and has kept crude prices relatively well supported in the week since then.
By 6:30 AM ET, futures were down some 0.3% within relatively narrow ranges at $55.47 a barrel, with traders content to wait for the Fed decision before making any significant new bets.