Top 5 Things to Know in the Market on Wednesday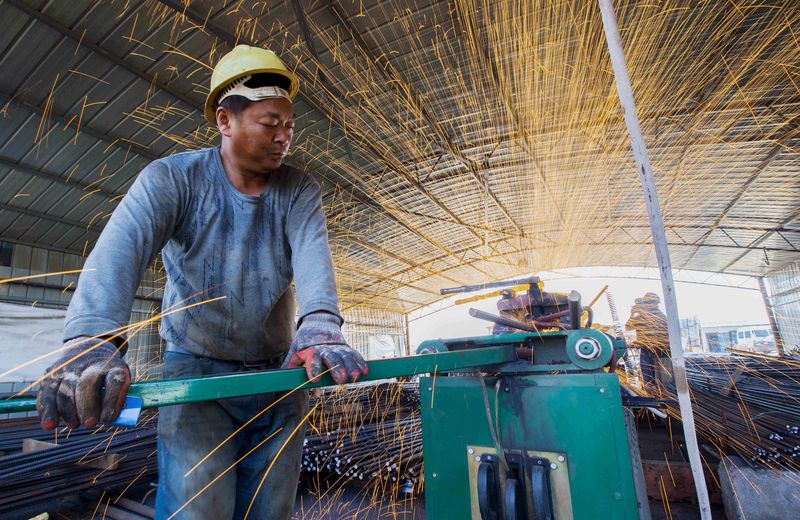 © Reuters.
Investing.com — These are the top 5 things you need to know in financial markets on Wednesday, May 15.
1. Chinese Crawl
China's economy slowed further in April, even before President Donald Trump moved to raise and extend the scope of U.S. import tariffs.
Data released Wednesday showed growth in and both slowed sharply in April from March, while the rate of growth also eased slightly.
The rallied in spite of the news, apparently in anticipation of easing measures by the People's Bank of China. The , which has hit new lows for the year this week, weakened to over 6.91 to the dollar in offshore markets, which aren't as tightly controlled by the PBoC.
Elsewhere, President Trump ramped up the pressure on China by preparing to ban telecoms group from tenders to build 5G networks in the U.S.
2. Wall Street Set to Open Lower
The U.S. stock market looks set to fall back again at the opening after rebounding on Tuesday from heavy losses caused by the escalation of the U.S. China trade war.
At 05:30 AM ET, the contract was down 7.6 points or 0.3%, the contract was down 71 points, or 0.3%, while the tech-heavy contract was down 15 points, or 0.2%
Speculation that the Federal Reserve may cut interest rates to offset any weakness in the economy took a knock on Tuesday after NY Fed chief John Williams and Kansas City Fed President both pointed downplayed the suggestion, Williams in particular noting that the tariff increases levied by the U.S. would tend to increase inflation.
3. Oil prices rebound on IEA warning
Crude oil prices rebounded slightly after the predicted that the world oil market would flip into deficit in the second quarter.
oil futures, were at $61.20 a barrel, up from an intra-day low of $61.10. futures were at $70.95 a barrel.
Risks to the supply outlook are increasing against a backdrop of rising tension in the Middle East. Iran has accused the U.S. of trying to drag it into a war after Saudi claims of sabotage on its and earlier this week.
Prices had fallen late on Tuesday after the reported a surprise increase in U.S. crude inventories. The U.S. government will release its on oil stocks at 10.30 AM ET.
4. May's Last Stand
U.K. Prime Minister Theresa May wants to bring her EU Withdrawal Agreement bill back to parliament for a fourth time in June, in one last attempt to 'deliver Brexit'.
However, the effort looks doomed from the outset. Cross-party talks with the Labour opposition have run into stiff opposition from May's own party, undermining confidence that any deal struck now would hold in future. Labour's Deputy Leader John McDonnell said Tuesday the talks were close to collapse.
The fell to a near a three-week low overnight and is hovering just above $1.2900.
5. Microsoft Warns of Bug
Microsoft (NASDAQ:) warned it had discovered a weakness in older versions of its Windows operating system that could be exploited by something similar to the WannaCry worm that caused havoc across the world in 2017.
The company said it wasn't aware of anyone having exploited the vulnerability to date, but said it's "highly likely" that someone will try to, now that it's disclosed. It added that it had now patched the weakness.
The news comes a day after both Intel (NASDAQ:) and Facebook's (NASDAQ:) WhatsApp both admitted to security flaws in their products.