Stocks – Disney, Apple, Nike Power Dow to New Highs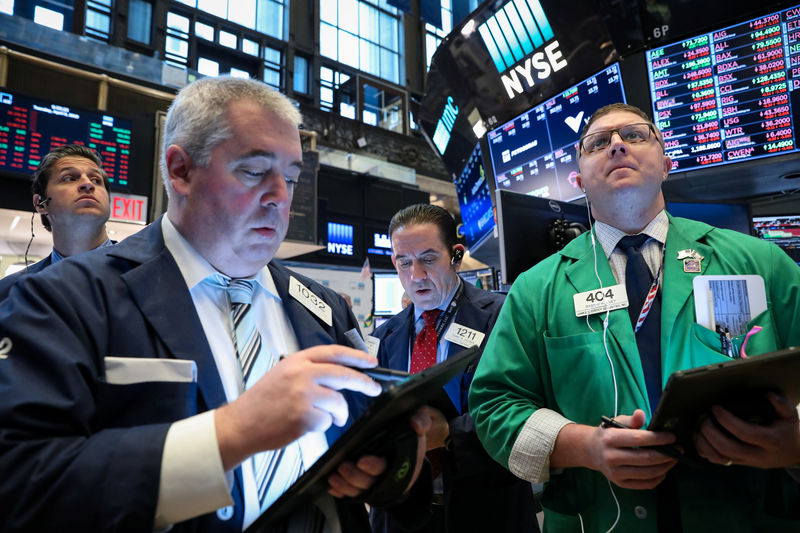 © Reuters.
Investing.com – In a tale of two stock markets, the Dow surged to new intraday and closing highs, while the other major indexes struggled.
Walt Disney (NYSE:), Apple (NASDAQ:) and Nike (NYSE:) powered the above 27,800 for the first time, and the blue chips closed at a record 27,783.59, a gain of 0.3%.
At the same time, the barely set a new closing high of 3,094, up two points or 0.07%. The and indexes dropped 0.05% each on worries a U.S.-China trade deal may fall apart.
Disney added 68 points to the Dow's 92-point gain by itself, rising 7.32% after reporting that more than 10 million people subscribed to the company's Disney+ streaming service, which launched Tuesday. Disney also hit a 52-week intrady high of $149.92.
Apple), preparing to launch its own streaming service, rose 1% and added 17 points to the . It also set a new all-time intraday high of $264.78.
NKE, up 2%, was worth 12 points to the Dow.
After hours, Cisco Systems (NASDAQ:) reported fiscal first-quarter that beat estimates compiled by Investing.com. But the Dow component's shares were nearly 4% lower after hours because the networking giant's second-quidance was lighter than expected.
Earnings due Thursday include retail giant (and Dow component) Walmart (NYSE:) and graphics chip maker Nvidia (NASDAQ:)
The China-U.S. trade fight muscled its way into the market psyche on a report China is balking at some of the terms of the trade deal. It wants tariffs lifted on products imported into the United States, and The Wall Street Journal said China is also unwilling to quantify the dollar amount of soybeans, pork and other U.S. farm products it will buy from the U.S.
President Donald Trump had previously said China committed to buying up to $50 billion in farm products.
The news dented hopes that the phase one deal will be signed sooner rather than later, the Journal said.
The news hit agriculture stocks. Fertilizer company maker Mosaic (NYSE:) fell 6%. Seed and chemical company Corteva (NYSE:) fell 3.74%.
Interest rates moved lower, resulting in strength for utility and real estate stocks. Consumer services and technology stocks were also strong. Financial, energy and materials stocks were the weakest sectors. The Treasury yield fell to 1.886% from Tuesday's 1.909%.
The U.S. China uncertainty pushed up $9.60 an ounce to $1,463.30 an ounce in New York. crude moved up 32 to $57.12 a barrel. crude added 31 cents to $62.37.
Walt Disney (NYSE:) was the top performer, as well as the Dow leader. Other top S&P 500 performers were food giant ConAgra Foods (NYSE:), Xcel Energy (NASDAQ:), the big Midwestern electric utility company and Mid-America Apartment Communities (NYSE:).
The S&P 500's biggest laggards included fertilizer maker Mosaic (NYSE:), oil company Hess (NYSE:), insurance company Progressive (NYSE:) and Corteva (NYSE:), the seed and agricultural chemical company spun off by DuPont (NYSE:).