Stocks – Wall Street Closes Down After Trump Hits Trade Deal Hopes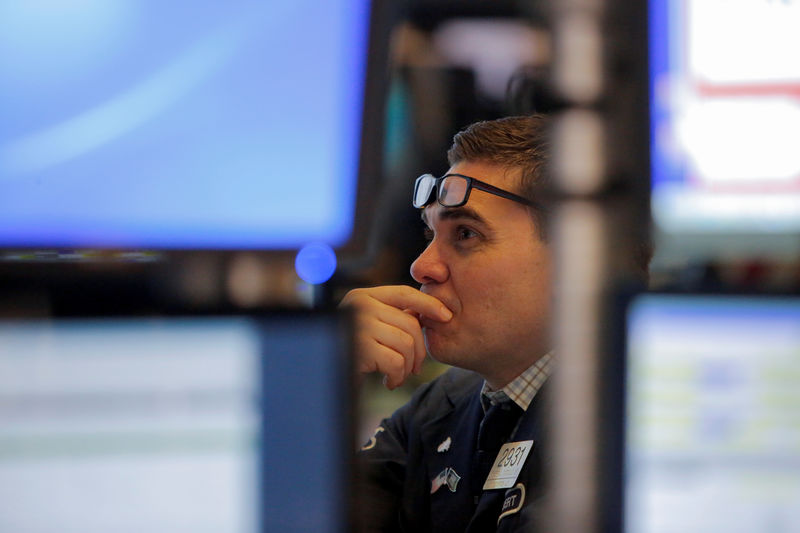 © Reuters.
Investing.com – Stocks took a dive on Tuesday for a third-straight day after President Donald Trump suggested there might not be a trade deal with China in 2019 and maybe not until after next year's election.
The fell as many as 44 points soon after the open. The were off nearly 458 points before some modest bargain hunting set in and the president, who was attending a NATO meeting in London, withdrew for the night.
The bargain hunting helped cut the day's losses substantially. The closed down 0.66%. The dropped about 0.55%. The ended off 1.01%, or 280 points, in part because of weakness in Apple (NASDAQ:), Goldman Sachs (NYSE:), Boeing (NYSE:) and Home Depot (NYSE:).
Boeing was lower as skepticism that its troubled 737 Max jetliner will be re-certified by Dec. 31.
Defensive stocks, including Merck (NYSE:), Verizon Communications (NYSE:) and Procter & Gamble (NYSE:) led the blue-chip index. Only five of the 30 stocks were higher.
Much of the initial selling came so quickly after the open that it appeared to be computer driven.
Then, humans slowly bid stocks up and forced the market to recover at least some of its losses.
The Dow's loss was its largest since Oct. 8. The losses for the S&P 500 and Nasdaq Composite at the close were smaller than their Monday losses.
Tech stocks were hurt, especially chip stocks and hardware, because of the possibility of more tariffs being imposed on goods imported from China and because the Chinese market is so important to these companies as well. Cadence Design Systems (NASDAQ:), Intel (NASDAQ:) and Micron Technology (NASDAQ:) were among the biggest losers among stocks in the index.
Apple, Intel, Amazon.com (NASDAQ:), Qualcomm (NASDAQ:) and Facebook (NASDAQ:) combined to generate 33 points of the Nasdaq 100's 54.5-point loss — 61% of the total.
After hours, Salesforce.com (NYSE:) beat earnings estimates compiled by Investing.com. But weaker-than-expected guidance pushed shares lower after hours.
The market has regularly jumped when the president or other officials working on the China trade talks have said a deal is on track. Wall Street may become skeptical about the assurances going forward.
Nine of the 11 S&P 500 sectors were lower, with energy, financial and industrial stocks suffering most. Utilities and real estate were the only winners as investors looked to them for safety.
They also bid up bonds and , looking for safety from the political headwinds.
The fell to 1.716%, down from 1.728% on Monday.
Gold jumped $15.20 to $1,484.40 an ounce.
Crude oil was mixed with crude up 14 cents to $56.10 a barrel. crude, the global benchmark, fell 10 cents to $60.82.
Cell-phone tower company Crown Castle International (NYSE:), information technology company DXC Technology (NYSE:), gaming company Take-Two Interactive Software (NASDAQ:) and real-estate-investment trust SL Green Realty (NYSE:) were among the top S&P 500 performers on Tuesday.
Oil-and-gas producer Apache (NYSE:), employtee-benefits company Unum Group (NYSE:), oil-and-gas producer Cimarex Energy (NYSE:) and mining company Freeport-McMoran Copper & Gold (NYSE:) were among the worst S&P 500 performers.