Stocks – Wall Street Hits New Highs on Trade Hopes, Tech Gains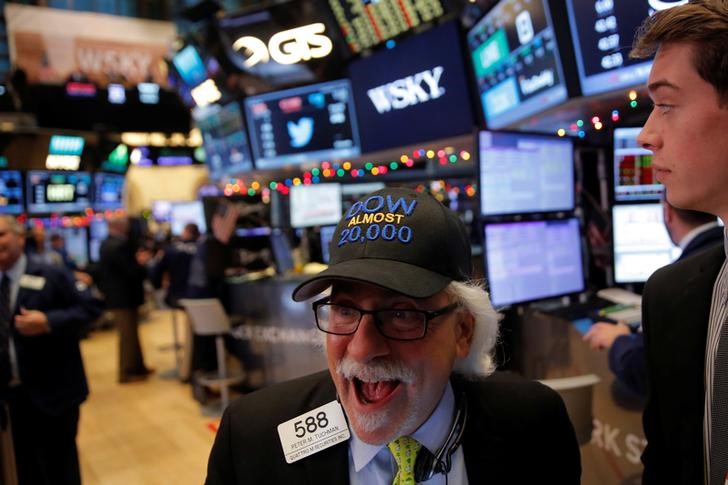 © Reuters.
Investing.com – Stocks pushed to new intraday highs on Thursday as investors felt better about U.S.-China trade relations and bet heavily on chip stocks.
The closed up 0.45% and recorded its first close above 3,200.
The , up as many as 142 points in the late morning, fadded a bit, then rallied into the close for a 0.5% gain.
The rose 0.67%. The climbed 0.71%.
The catalysts included Treasury Secretary Steve Mnuchin's comment that the phase one U.S.-China trade agreement should be signed in January. There have been some worries that the continued lack of specific details signals larger issues.
Chip stocks enjoyed healthy gains, partly driven by a rally in Cirrus Logic (NASDAQ:), reportedly the possible target of Facebook (NASDAQ:). The jumped 0.8% and hit new closing and intraday highs.
Also rising were chip stars such as NVIDIA (NASDAQ:), Intel (NASDAQ:) and Micron Technology (NASDAQ:).
Netflix (NASDAQ:) jumped 3.56% as investors felt more confident the video-streaming company could weather the competition from Walt Disney (NYSE:), Apple (NASDAQ:) and others.
Netflix and Micron were the top performers on the day.
Cisco Systems (NASDAQ:), up 2.66%, was the top performer and 7th best in the Nasdaq 100.
But were off slightly from October. The problem was not enough supply and high prices. While new-home sales have been strong and homebuilder confidence stronger, housing stocks were lower. The Index fell 0.95%. But the index has had a big year, with a 42.5% year-to-date gain.
Thursday's rally appeared to be Wall Street's bet that the chances President Donald Trump will be removed from office were minuscule, despite the House vote to impeach the president on Wednesday.
As of Thursday's close, the is up 21.65% for the year. The is up 27.86%, and the Nasdaq has added 33.94%.
While that sounds great, the stock market lately has been giving off signal of getting frothy. The relative strength indexes for the S&P 500 and Nasdaq are both above 70, a signal they're getting overbought and vulnerable to a pullback.
Real estate, communications services and technology were the day's strongest sectors, with only energy, financials and utilities lower.
Twenty-three stocks were higher, led by Cisco (NASDAQ:), and 3M Company (NYSE:). Caterpillar (NYSE:) and Exxon Mobil Corp (NYSE:) were the laggards.
Dow component Nike (NYSE:) shares beat estimates on sales on earnings and sales in the fiscal-second quarter, but shares dipped after hours on concerns about smaller-than-expected profit margins.
Oil prices continued their late-fall surge. closed at $61.18 a barrel, up 0.5% and up about 20% from a low in early October.
Interest rates fell back. was up slightly in New York.
Food processing giant ConAgra Foods (NYSE:), Netflix (NASDAQ:), cleaning supplies company Ecolab (NYSE:) and cell-phone tower operator American Tower (NYSE:) were the top performing S&P 500 stocks.
Restaurant operator Darden Restaurants Inc (NYSE:), best-known for its Olive Garden chain, implant device maker ABIOMED (NASDAQ:), Macy's (NYSE:) and fuel-card company Fleetcor Technologies (NYSE:) were the weakest S&P 500 operators.