Top 5 Things to Know in the Market on Friday, 13th December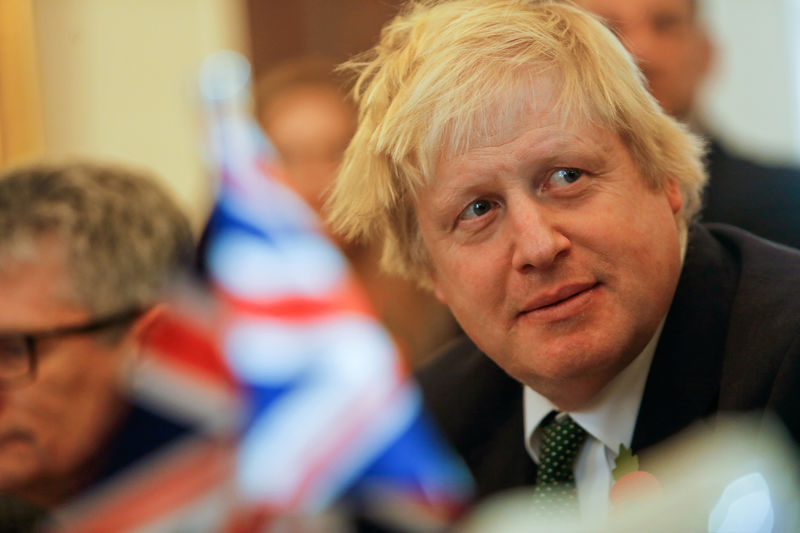 © Reuters.
Investing.com — China stays mum on the reported U.S. trade deal offer, as analysts see Beijing afraid of getting caught in a trap. The pound and U.K. stocks soar after a convincing election victory for Boris Johnson's Conservatives that paves the way for a formal withdrawal from the EU by the end of January at the latest. And Broadcom (NASDAQ:) promises a better year ahead after suffering from the U.S. ban on exports of sensitive components to Huawei. Here's what you need to know in financial markets on Friday, 13th December.
1. Radio silence from Beijing
China kept an awkward silence as it digested the reported offer by the U.S. to roll back some tariffs and cancel those due to come into force at the weekend, in return for guaranteed annual purchases of U.S. farm goods.
"Chinese authorities and official media so far haven't given any information on China and the U.S. are close to a deal," Hu Xijin, editor of the English-language Chinese publication Global Times, said via Twitter. "As the U.S. side released optimistic information through various channels, the Chinese side has basically kept silent. This is a delicate situation."
Analysts argue that the offer by the White House may be perceived as a trap, saying that Beijing will resist being drawn into an agreement where its compliance can be easily and reliably measured.
2. U.K. assets surge on Conservative triumph
U.K. assets surged after an emphatic victory for Boris Johnson's Conservatives lifted the political uncertainty over Brexit and banished the threat of a radical left-wing government.
The pound consolidated against the dollar and euro after its biggest one-day gain in over two years. U.K. stocks also rose sharply, with homebuilders, banks, utilities and consumer stocks all figuring prominently.
Yields on U.K. government bonds hit their highest since the spring as risk appetite returned and the prospect of a big boost to public spending next year militated against any further interest rate cuts by the Bank of England.
3. Stocks set to open higher; retail sales data eyed
U.S. stocks are set to open higher on Friday, on a combination of trade hopes, greater clarity over Brexit in the wake of the U.K. election – and the commitment of the Federal Reserve to flood the market with liquidity over the year-end to ensure that last year's bout of volatility isn't repeated.
By 6:35 AM ET (1135 GMT), were indicated up 141 points, or 0.5%, while the S&P 500 futures contract was up 0.4% and the contract was up 0.5%.
The day's earnings and data calendars are light, with the highlight being retail sales data for November due at 8:30 AM ET (1330 GMT).
4. House committee to vote on articles of impeachment
The House Judiciary Committee will likely vote on two articles of impeachment, seeking to remove President Donald Trump for abuse of office and for obstructing the work of Congress.
The vote is shaping up to proceed on partisan lines, with GOP representatives still refusing to accept allegations that Trump pressured Ukraine, a U.S. ally, into investigating the son of Joe Biden in order to help his own re-election campaign. Trump allegedly withheld military aid approved by Congress for Ukraine, hoping to extract an announcement from President Volodymyr Zelensky that Hunter Biden was being investigated for corruption.
If the vote passes the full House, Trump will be tried in the GOP-controlled Senate.
"There's no chance the president is going to be removed from office," Senate Majority Leader Mitch McConnell told Fox News on Thursday night.
5. Broadcom (NASDAQ:) predicts bounce-back
Broadcom (NASDAQ:) published weaker-than-expected figures for the final quarter of its year ending Nov. 3 but said revenue growth and profit would bounce back in the coming year.
The company has been hit harder than most in the sector by the protracted U.S. export ban on some items to Chinese telecom giant Huawei.
Elsewhere after the bell on Thursday, Oracle (NYSE:) said it would leave Safra Catz as sole CEO after the departure of Mark Hurd. Its latest quarterly profit beat expectations but revenue fell short.