Top 5 Things to Know in the Market on Tuesday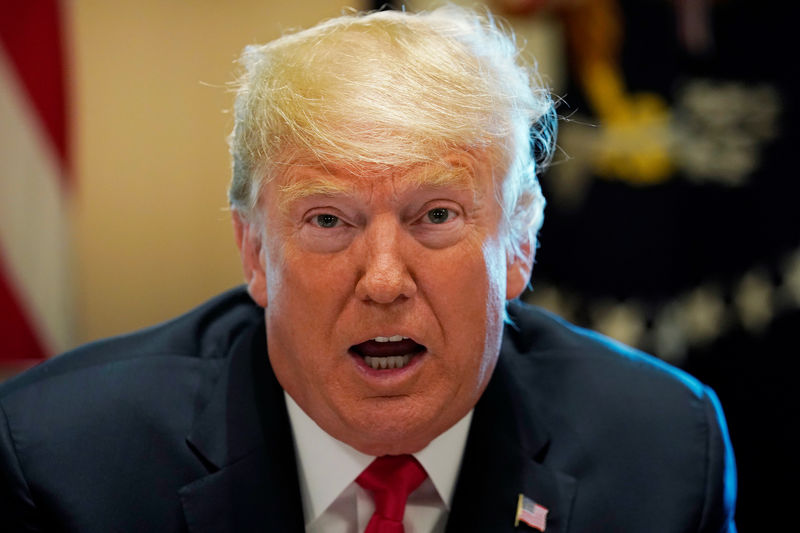 © Reuters.
Investing.com — President Donald Trump will speak on U.S. economic and trade policy in a lunchtime address in New York, against a backdrop of heightened expectations of a trade truce with China. Elsewhere, there were signs of the German economy bottoming out, while Hong Kong endured another day of widespread violence. And Disney gets to launch its Netflix-killer streaming service. Here's what you need to know in financial markets on Tuesday, 12th November.
1. Trump to address Economic Club of New York
President Donald Trump will speak at 12 PM ET (1700 GMT) at the Economic Club of New York, against a backdrop of expectations for a trade truce with China that have risen substantially in recent weeks, despite his efforts on Friday and Saturday to play them down. Reports last week suggested the mooted 'phase-1' trade deal with China may not be finalized until December.
Trump is expected by many to comment not just on how much can be agreed with China as regards de-escalating the world's most damaging trade dispute, but also on whether he will press ahead with tariffs on European goods, notably auto imports, as threatened earlier this year. EU Commission President Jean-Claude Juncker had said last week he didn't expect Trump to follow through with the threat.
With hopes for détente firmly baked into asset prices, any repetition of a hard line against either China or Europe is capable of generating a backlash.
2 Signs of life in Germany?
The first big confidence survey of the month in Europe showed a bigger-than-expected improvement in expectations for the German economy, strengthening hopes that the region's largest economy could be bottoming out.
The economic sentiment index improved to -2.1, its highest level in six months and well ahead of an uptick to -13.2 from -22.8 in October. The improvement is all the more conspicuous for the fact that ZEW has a reputation for being a more accurate indicator of turning points than for absolute levels of activity.
The news comes on the heels of the German government's council of economic advisors revising down their forecasts for growth both this year and next year. The more positive outlook was also echoed in some corporate earnings reports, notably from Geman chipmakers Infineon (DE:) and Dialog (DE:).
3. Stocks to open mixed; Tyson, Rockwell earnings due
U.S. stock markets are set to open fractionally higher, although trading is likely to stay muted until Trump's speech later in the day.
By 6:25 AM ET, were up 17 points, less than 0.1%, while were up 0.1% and were up a fraction more.
Today's earnings roster is headed by meat giant , which is expected to report per-share net income of $1.29 per for the quarter and $5.52 for the full year, down 14% from the year-ago on an annual basis. Also of interest will be its outlook for pork prices against the backdrop of a devastating epidemic that has wiped out almost 200 million pigs in China, over 40% of that country's herd.
Other reports scheduled Tuesday include , , , recently-listed and . Japanese auto giant Nissan Motor (T:) earlier slashed its full-year sales and profit forecasts after a 70% slump in profits for the three months to September.
4. Hong Kong hit again
Hong Kong's financial district was paralyzed for a second day running by protests that also closed many of the city's schools and shops.
The South China Morning Post reported that police fired tear gas in at least 12 different locations, only hours after embattled legislature head Carrie Lam vowed that escalating violence would not cause her government to back down. Lam also called the protesters "the enemy of the people".
The escalation has led U.S. senators to renew calls for a vote on the Hong Kong Human Rights and Democracy Act, which would fast-track U.S. sanctions on those deemed responsible for violating rights enshrined in the Sino-British declaration of 20 years ago. The bill has already cleared the House of Representatives but has been put on ice by the Senate, which fears upsetting the administration's trade negotiations with it.
5. Disney to launch streaming service
Walt Disney (NYSE:) is due to launch its Disney+ streaming service later, with a price that undercuts both Netflix (NASDAQ:) and Amazon's Prime service at $6.99 a month.
Disney is entering an increasingly crowded space, with Apple (NASDAQ:), AT&T (NYSE:) and Comcast (NASDAQ:) all vying with the two disruptors for a finite audience.
A Harris poll for the Wall Street Journal found that Americans are willing to pay $44 a month on streaming services, suggesting that there's plenty of room for all of the above to grow in the near term, given a current average spend of $14 a month. In the medium term, however, competition is likely to get much more intense, analysts say.