Top 5 Things to Know in the Market on Wednesday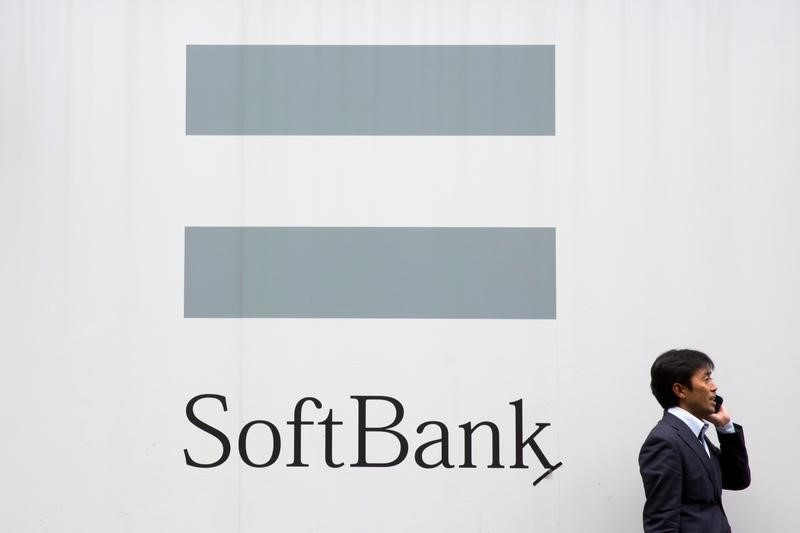 © Reuters.
Investing.com — The WeWork fiasco drives SoftBank to a multibillion-dollar loss, while Xerox (NYSE:) is eyeing a merger with HP and Saudi Arabia is leaning on its OPEC allies to prop up oil prices while it brings national champion Aramco to market. Here's what you need to know in financial markets on Wednesday, 6th November.
1. Regrets, I've had a few…
SoftBank Corp (T:) swung to a loss of $6.4 billion in the three months to September, as it was forced to write down its stake in WeWork and, indirectly, Uber (NYSE:) after heavy losses.
"My own investment judgment was really bad. I regret it in many ways," SoftBank founder Masayoshi Son told a press conference. He added that he had shut his eyes to the weaknesses of WeWork founder Adam Neumann, who was ousted as CEO last month with a payout totalling $1.7 billion.
As of Sept. 30 (ie. Before October's bailout), Softbank had invested $10.3 billion in WeWork, of which $4.3 billion was through its Saudi-backed Vision Fund. The Vision Fund also registered a big operating loss in the quarter, due both to WeWork and to Uber (NYSE:), whose value has fallen sharply since it listed in New York earlier this year.
2. Xerox's $27 billion idea for HP
Xerox (NYSE:) wants to make a cash-and-stock offer for printer-maker HP Inc (NYSE:), according to The Wall Street Journal's sources.
The deal would be a major consolidation of an industry in long-term decline. The WSJ said HP's board discussed the possibility Tuesday.
The move is noteworthy for the fact that Xerox's market value is less than one third of HP's $27 billion. Xerox (NYSE:) will, however, be able to deploy some $2.3 billion that it expects to get from the sale of stakes in joint ventures with Japan's Fujifilm.
3. Stocks on hold
U.S. stock markets are set to open flat after a wild few days of record-setting as China and the U.S. inch closer to a truce in their trade war. There's been little in the way of fresh trade news overnight.
By 6:15 AM ET (1115 GMT), all three major benchmark indices were almost completely flat from Tuesday's close. were up 15 points, were up 1 point, while were up 3 points.
Dating site owner Match Group (NASDAQ:) looks set for a rough opening after weak guidance for the fourth quarter led to it falling 16% in after-hours trading Tuesday.
Today's earnings roster is led by chipmaker , , , , , payments company , , and smart TV maker .
4. Saudi leans on OPEC members; EIA data due
prices came off six-week highs after data from the American Petroleum Institute showed a surprisingly strong increase in U.S. oil stocks last week.
The API said had risen 4.26 million barrels last week, compared to forecasts for an increase of only 1.5 million barrels. The official are due at 10:30 AM ET.
Elsewhere, The Wall Street Journal reported that Saudi Arabia is leaning heavily on other OPEC members such as Nigeria to comply better with the output ceilings agreed in the so-called OPEC+ deal. However, there was still no sign that the cartel's biggest producer will call for deeper cuts in output when the OPEC+ group reviews its current deal in the first week of December. The kingdom has created a powerful incentive for itself to keep oil prices supported around that time, given that it will still be marketing the IPO of Saudi Aramco.
5. Germany bottoms out, but no big rebound in sight
German rose for the first time in three months and for the services sector strengthened hopes that the euro zone economy may be bottoming out.
Orders to Europe's biggest manufacturing sector rose 1.3% in September but were still down 5.4% year-on-year, keeping any sense of optimism in check. The German government's council of economic advisers cut its growth forecast for this year to 0.5% and said 2020 will only see a modest rebound to 0.9% in 2020.
The U.S. data calendar is virtually empty today, although there will be speeches from Fed officials (8 AM ET), (9:30 AM) and (3:15 PM).