U.S. Initial Jobless Claims Surge to Record 3.28 Million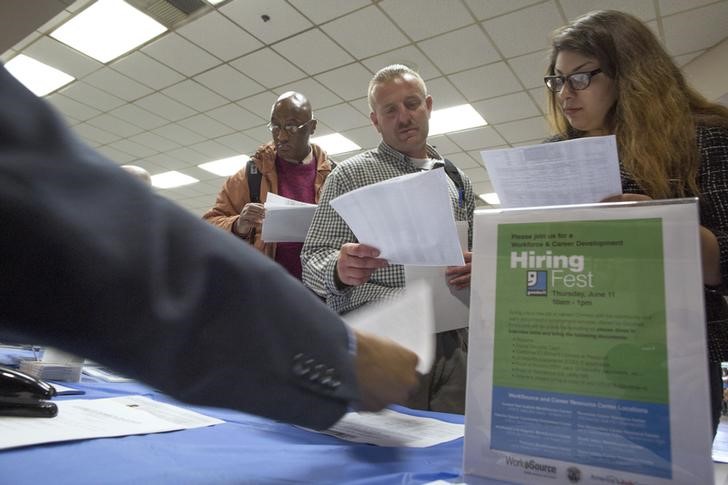 Investing.com – The number of Americans applying for initial unemployment benefits surged to a record 3.28 million last week, the U.S. Labor Department said on Thursday, as widespread measures to contain the coronavirus pandemic stalled the economy, unleashing a wave of layoffs.
The increase dwarfed the prior week's figure of 282,000.
The report also showed the number of people already receiving benefits increased to 1.803 million.
The release has had a limited reaction on Wall Street, with many expecting a very large figure. At 8:35 AM ET (1235 GMT), futures for the S&P 500 traded 28 points, or 1.1%, lower, futures for the Nasdaq down 67 points, or 0.9%, while theDow futures contract fell 149 points, or 0.7%.
The report offers the clearest picture yet of the coronavirus' devastating impact on the economy, which has prompted the Federal Reserve to implement what is essentially unlimited quantitative easing and set the U.S. Congress in motion to approve an unprecedented $2 trillion coronavirus relief bill.
"Containment efforts in response to the coronavirus resulted in a very sudden and very dramatic change over just a few days," said Stephen Gallagher, U.S. chief economist at Societe Generale in New York. "Layoffs were part of that change and applicants appear to have flooded state unemployment insurance offices within a very short time-span."
Governors in at least 18 states, accounting for nearly half the country's population, have ordered residents to stay mostly indoors. "Non-essential" businesses have also been ordered closed. According to economists, a fifth of the workforce is on some form of lockdown.
Last week's claims data likely will have no impact on March's employment report as it falls outside the period during which the government surveyed employers for nonfarm payrolls, which was the week to March 14. Economists, however, say the rush for benefits in that survey week suggests payrolls declined this month, which would end nearly nine-and-a-half years of job growth.
"Jobs will decline in March," said Mark Zandi, chief economist at Moody's Analytics in West Chester, Pennsylvania. "There are numerous reports of laid-off workers unable to file for unemployment insurance because so many people are trying to file at the same time. Millions of job losses are likely in coming weeks."
–Reuters contributed to this report